'Nomadland' Review
Nomadland Review — February 19, 2021 (U.S. Release Date)
February 25, 2021
Writer & Director: Chloé Zhao
Starring: Frances McDormand & David Strathairn. 
Rating: 4/5
Streaming on Hulu.
After the 2008 Great Recession, tens of thousands of Americans lost their homes. Nomadland, a docu-fictional hybrid starring Academy-Award-winning actress Frances McDormand, tells the story of the Americans that found new homes in the wake of this financial crisis: the open road.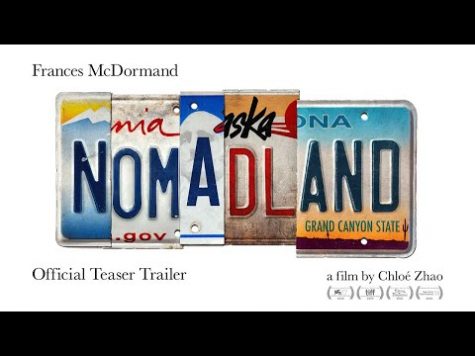 With nowhere to go, many Americans–particularly older, blue-collar workers–found their new homes in vans, buses, and RVs as they explored the American West, searching for temporary jobs and exciting ventures. Among this group of nomads is Fern, played by McDormand, who mourns the loss of her husband and her small town, which collapsed in the Recession. As she drives through the countryside, she meets a variety of Americans who embrace the liberty gained from the loss of their livelihoods, emphasizing the dichotomous relationship between freedom and stationary monotony.
One of the most peculiar features of the film, a trademark of the esteemed writer-director Chloé Zhao, is the documentary feel of the piece. In fact, Nomadland, like Zhao's previous film The Rider, is discreetly filled with real people–not actors–who discuss their personal experiences as nomads, establishing a genuine experience for the viewer. With only two or three real actors, the film offers an authentic look at the lives of displaced Americans in a documentary-like fashion but with a thinly-veiled narrative, gilding the entire work.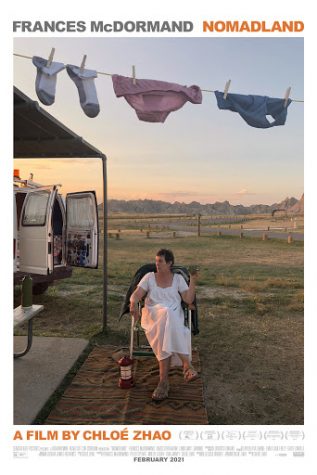 Personally, I found the film often slumps around from moment to moment as it frequently gets lost in its unadulterated authenticity. In other words, although it offers extraordinary insights into the lives of unseen Americans with brilliant themes, symbols, and acting, it can get really boring really quickly. Nevertheless, it'll probably win a ridiculous amount of Oscars.