'Tenet' Review
September 3, 2020 (U.S. Release Date)
Writer & Director: Christopher Nolan
Starring: John David Washington, Robert Pattinson, Elizabeth Debicki, & Kenneth Branagh. 
Rating: 4.5/5
Mask on and hand sanitizer at the ready, I was finally prepared to watch the first (and possibly last) blockbuster of the summer. Following months of constant delays, Christopher Nolan's much-anticipated sci-fi espionage thriller had been given a late summer release date. Although initially slated for release on July 17, Tenet was postponed on three separate occasions due to COVID-19, further perpetuating skepticism for watching movies in theaters. However, with a mask on my face, hand sanitizer in my hand, and three seats in between me and my fellow viewers, I felt ready to watch the much-delayed film.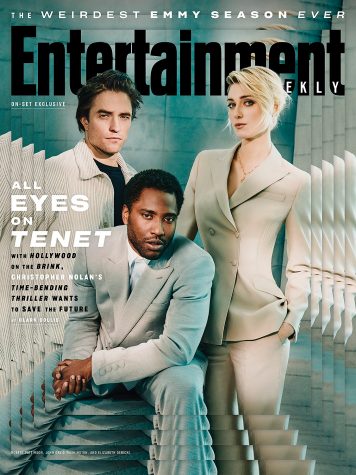 Nolan fully immerses the audience immediately—with almost no time to breath—through tense sequences, concept-heavy dialogue, and time-bending realities. As his star-studded cast jumps from location to location around the globe, they are met with challenges and ideas that the audience must be quick to keep up with. Introducing an entirely new definition to time-bending, Nolan brilliantly creates a world filled with lies, deception, arms dealers, exploding planes, expensive boats, and, of course, car chases. With the relaxed presence of John David Washington leading the film, Tenet also features Robert Pattinson's mischievous and Elizabeth Debicki's fierce performances to complement the film. As the film progresses, the understanding of the concept at hand becomes more pertinent to the plot; however, if you don't quite understand it, the action scenes are astonishing to look at. Tenet undoubtedly delivers what every summer blockbuster should: gorgeous scenery, incredible action sequences, brilliant performances, and a satisfying finish.
Although it may come off heavy, confusing, or even delirious at times, Tenet is an unbelievable film that presents a spy thriller through the complex lens of time-altering sci-fi (kind of like James Bond with a time machine). With about a $205 million budget, the film has generated about $251 million in revenue globally, an extremely low profit for a summer blockbuster of this magnitude. Nevertheless, even with an ongoing pandemic and a lukewarm box office reception, Nolan has proved that he still knows how to create a time-bending reality filled with unbelievable entertainment. However, if comfortable with the idea of movie theaters, there is one thing certain after watching the film: a rewatch is mandatory.

Loading ...