Studio 2054 – A Virtual Concert Experience (A Review)
Studio 2054 
Artist: Dua Lipa
Featured Guests: Kylie Minogue, Elton John, Miley Cyrus, FKA Twigs, Angèle, The Blessed Madonna, Bad Bunny, J Balvin, Tainy
Run-time: 1 hr 10 minutes
Date: 27th November 2020
This year, Thanksgiving certainly looked to be different from a normal year, with smaller gatherings and more quieted affairs. As the post-Thanksgiving food coma hit us on Friday, I was luckily given the chance to snag tickets to Dua Lipa's Studio 2054, a virtual live performance in promotion of the London-born singer's sophomore album, Future Nostalgia, and watch it in hopes of getting my groove on.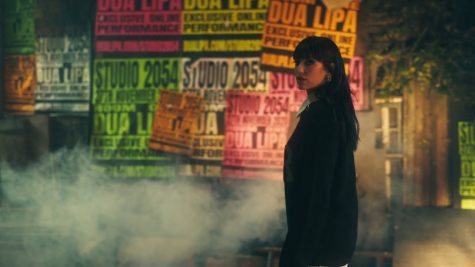 Now, without a doubt, the coronavirus pandemic put the live concerts and performances sector of the music industry to a screeching halt. Not only are tours and shows canceled to the dismay of music fans, but artists' profits and revenues are also taking a hit as touring was their main source of revenue. As we confined to our homes, many artists began offering virtual shows to maintain their fanbase and promote their work. Some artists found successes, such as Billie Eilish's Where Do We Go? live stream and BTS' Map of the Soul ON:E two-day virtual concert, both of which had massive virtual audiences, but overall, the PPV (pay-per-view) virtual concert experiences can't be compared to live shows.
Going into Studio 2054 on Friday evening on the comforts of my couch, I certainly didn't know what to expect. Dua Lipa offered little detail about the event, with the official site calling it an "exclusive multi-dimensional live performance will be shot in a massive warehouse location" back in late October. As the weeks went by, several guests were announced, one by one, but no further details were given about the show itself other than the expectation of Dua performing songs from her sophomore album.
When the intro card displayed on the screen, we immediately get drawn into a world of disco groove as we see a group of dancers surround Dua as she sings the title track, "Future Nostalgia." (The dancers were maskless, but we're assured at the end credits that COVID-19 guidelines and testing were followed.) As the hour goes on, we see Dua go through different sets in one (mostly) continuous fluid motion, performing different songs from Future Nostalgia, as well as "New Rules," "One Kiss," and "Electricity," all hits from her debut album. Every single song was performed with high energy, usually with a choreographed number, and we see Dua as a rising pop star with high ambitions—smiling, winking at the camera, and never missing a step.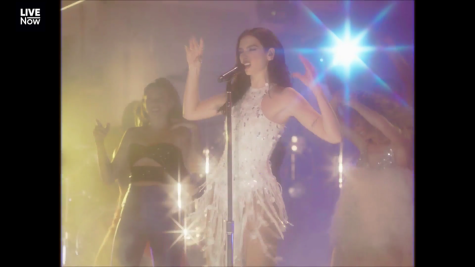 Throughout the hour-long stream, guests appear in regular intervals. With the exception of FKA Twigs, Angele, The Blessed Madonna, and Kylie Minogue, all other guests popped in through video. While slightly disappointing, especially with the Miley and Dua just-released collaboration, "Prisoner," this is an understandable development given the logistics under a still-pandemic-ridden world. Still, the guest appearances add flair to an already glamorous night, from a teaser of the unreleased collaboration between Dua and FKA Twigs, to Kylie performing "Electricity" and "Real Groove" (from Kylie's latest album Disco, how fitting) with Dua. Angèle brings the heat with Dua on their collaboration "Fever," and Dua's song with the three Latin artists, "UN DIA (ONE DAY)," sounds phenomenal live. 
The real highlight of the night, however, was Dua herself. The pop princess oozed charisma and glamour, and she looked like an actual performer, singing her songs with style and dance. It's amazing to see her grow from her debut era when she was criticized for lacking a stage presence; by the time we hear the closing number and worldwide hit, "Don't Start Now," we have every reason to believe that Dua "did a full 180" with this magnificent performance. Not to mention, her outfit changes were truly charming and the set really pays homage to the original Studio 54 nightclub in New York with the disco influences, roller skates, and mirrorballs. 
Dua's live stream was an experience like no other and by the time the end credits appeared, we heard cheers of joy in the background that made us nostalgic to a pre-COVID time period when we could gather together and enjoy ourselves. While we may not be able to go to live events in the near future, we have Dua, among many other talented artists, offering us entertainment that keeps us connected with the musical language that surrounds all of us.
Rating: 4.5/5
A Video-On-Demand (VOD) version of the Studio 2054 live stream is available for purchase for $10 at this link.

Loading ...
About the Writer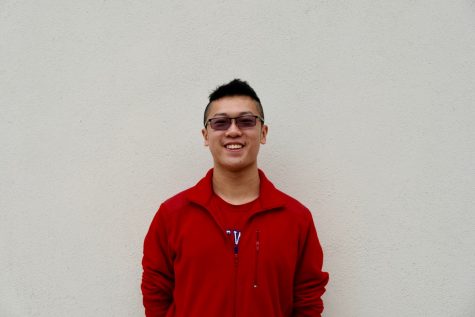 Derek Wong, Editor-In-Chief and Media Coordinator
Derek Wong is a senior who likes discussing hot topics relating to politics and the entertainment industry. He frequently participates in Model UN, loves...