Greatest Contemporary Artists
Greatest Contemporary Artists: Basquiat, Kusama, Haring
Visual and performing arts have become more and more popular with the increase of social media and its influence on the art industry and on the attractiveness of the stereotypical "starving artist." According to the Artwork Archive, "over 80 percent of all Generation Y art buyers bought fine art online, with almost half of online buyers using Instagram for art-related purposes." Even with older generations and millennials, artists such as Bob Ross, Keith Haring, or Andy Warhol are becoming more and more recognized through different platforms that reach out to a variety of audiences. We are going to dive into the world of famous contemporary artists who have influenced the clothing, cinematographic, music or marketing industry. 
Takashi Murakami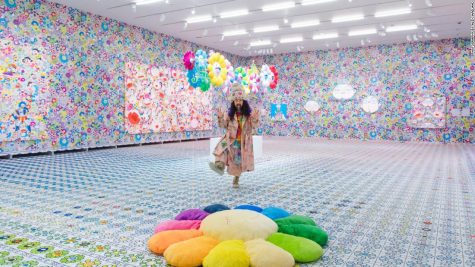 "We want to see the newest things. That is because we want to see the future, even if only momentarily. It is the moment in which, even if we don't completely understand what we have glimpsed, we are nonetheless touched by it. This is what we have come to call art." – Takashi Murakami
Takashi Murakami is truly an amazing artist. By blending traditionalism and modern pop culture such as Japanese paintings, sci-fi, anime, and commercial mascots, he blends symbols from old nihonga paintings or ukiyo-e woodblocks to World War ll motifs and anime characters. He uses toys, key chains, and t-shirts. He even partnered with March Jacobs to redesign Louis Vuitton's monogram. He even dappled in the music industry by producing Billie Ellish's music video "you should see me in a crown."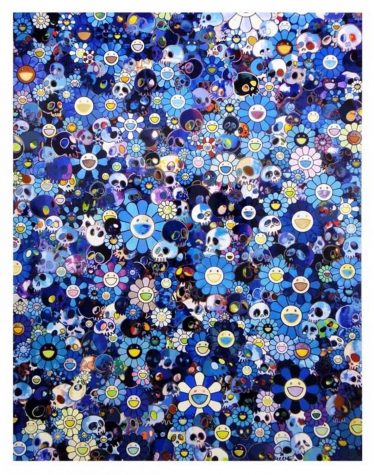 Blue Flower & Skulls (2012) by Takashi Murakami
Keith Haring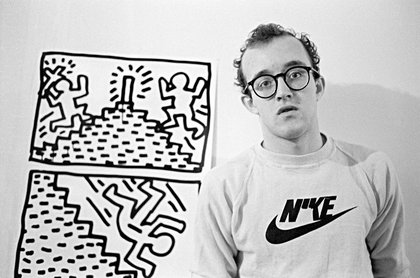 "I was always totally amazed that the people I would meet while I was doing them were really, really concerned with what they meant. The first thing anyone asked me, no matter how old, no matter who they were, was 'What does it mean?'"- Keith Haring
Keith Haring is known for his use of bold thick black lines and distinct flat colors. His figures are recognizable and resemble dogs, people, babies, or fantasy creatures. His human symbols reflect innocence and purity especially in The Radiant Baby, and his other famous work is called The Barking Dog which represent abuse of power, authoritarian, suspicion, and action. His simple yet meaningful portfolio of concepts inflicts pounding emotions. Currently, his work has greatly influenced the general public through clothing. Popular clothing stores such as Uniqlo, Urban Outfitters, and Adidas sell his paintings as aesthetic fashion.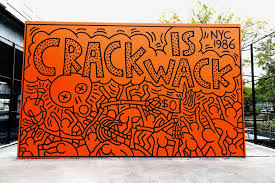 Crack is Wack (1986) by Keith Haring
Jean-Michel Basquiat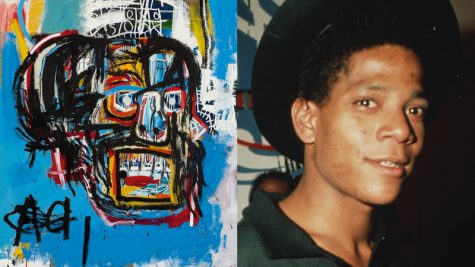 "I had some money, I made the best paintings ever. I was completely reclusive, worked a lot, took a lot of drugs. I was awful to people." – Jean Michel Basquiat
Jean-Michel Basquiat is an artist that has created thousands of amazing pieces that cannot be fully explained through words. Each piece is intricate and detailed to convey a powerful message. He was initially a graffiti artist under the name "SAMO" in New York City. As a starving artist, he sold postcards and merchandise of his art on the streets. Some of his purchased work ranged from $50,000 to $110.5 million, making him well-known in the art industry for his "crown motif" among African-American artists. Artist Francesco Clemente describes Basquiat's motif in artistic terms, "Jean-Michel's crown has three peaks, for his three royal lineages: the poet, the musician, the great boxing champion. Jean measured his skill against all he deemed strong, without prejudice as to their taste or age."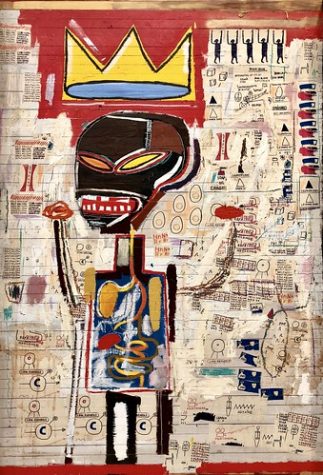 Grillo (1984) by Jean-Michel Basquiat