The Top Ten Albums of 2018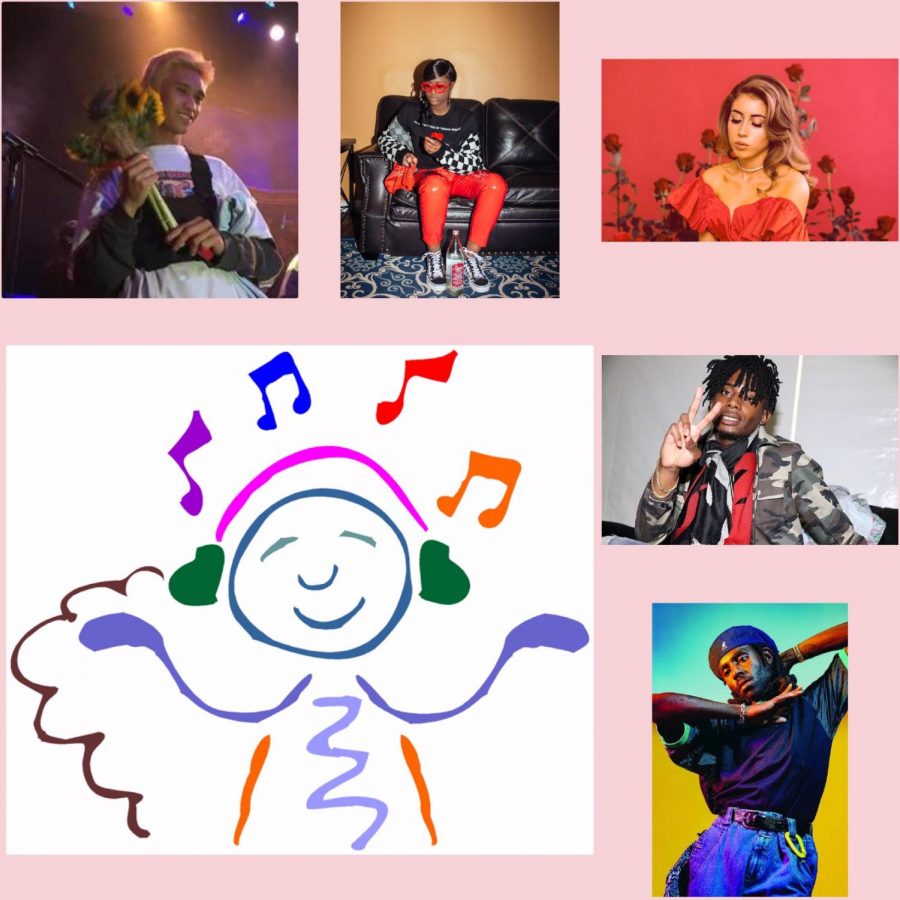 So much incredible music released in 2018. Truly, it seemed as if every week I discovered a new album or song that would stick with me the rest of the year. In 2018, I came to greatly appreciate the people who cared enough to craft the music we know and love. There's nothing more incredible than seeing musicians' experiences resonate with others through their art. Moreover, some of the great music that I've included on this list would have never been recorded if it wasn't for fans and their contributions. More artists than you think depend heavily on fans' investment in their music to make a living. I believe independent music is never truly independent. If I could ask one thing of whoever reads this article, it would be to do more than stream. Share the songs you love. If you really like an album, buy it. If an artist you love is touring, consider seeing them live. Buy from those who depend on your doing so. With that, here are the albums I appreciated most in 2018.
Honorable Mentions, in no particular order
KOD – J. Cole

KOD is J. Cole's best and most conceptual album to date. The Dreamville CEO weaves the three central themes of kids on drugs, king overdosed, and kill our demons in a way that is for the most part not corny and much less preachy than his contemporaries who address similar issues, notably Logic and Russ. At its best, KOD shines with thoughtful, deeply emotional and introspective tracks such as "Kevin's Heart", "1985″, and "Once an Addict (Interlude)", on the latter of which Cole raps about the destructiveness of blaming himself for his mother's many addictions. At the album's worst, J. Cole renders the track "Photograph" subpar through failing to sing track's chorus and offers a far too simplistic solution to those who suffer from depression on the song "FRIENDS": "meditate, don't medicate." Aside from a couple of shortcomings that keep the album off my list, KOD is truly a special project that carves J. Cole a high spot in today's rap scene.
Whack World-Tierra Whack
In an incredibly unique and quirky set of fifteen one-minute long tracks, Tierra Whack, the Philadelphia native who generated buzz through her freestyles, showcases a surprising knack for genre-bending and experimentation, delivering a solid collection of Hip-Hop and R&B in bite-sized bits. Because of its short runtime, Whack World left me desperately wanting to hear more from one of 2018's most charming and charismatic newcomers. Until then, "Hungry Hippo" and "Flea Market" will stay on repeat.
Little Dark Age-MGMT
The song "She Works Out Too Much" kicks off MGMT's first album after a five-year hiatus, their little dark age, with samples from a pinball machine, an arcade cabinet, and a yoga class. This retro feel mixed with funny and ridiculous subject matter dominates what is one of the most well-produced albums of 2018. The song Little Dark Age is easily one of my favorite singles this year with the infectious refrain of "I grieve in stereo/The stereo sounds strange." Though the duo may not reach the massive popularity of "Electric Feel" and "Kids" off their 2007 self-titled project with this album, Little Dark Age is an invigorating listen that makes up for the wait.
On the Rvn-Young Thug
Similarly to Whack World, I can't say there was a song that I didn't enjoy on this EP; in fact, Young Thug delivers some of the best songs in his discography on this project, and he integrates all of the featured artists well. On the Rvn, released timely during Thug's arrest in September, contains a set of tracks that are unique to your average collection of Atlanta trap bangers, most noticeably in Thug's melodic yelping on tracks like "Climax, feat. 6lack" and "High, feat. Elton John". However, this is an EP, and thus Thug only gives us a few tracks. The main reason On the Rvn isn't in my top ten is because there were other albums this year with more tracks and longer runtimes that I enjoyed just as much. The more good material the better, and the top ten is packed full of nearly flawless full-lengths.
  10. Isolation-Kali Uchis
Kali Uchis' projects "Drunken Babble", "Por Vida", and her notable feature on Tyler, the Creator's "PERFECT" established the Colombian singer-songwriter's sound, dabbling in elements of R&B, soul, and indie pop. On Isolation, Kali Uchis refines her approach to songwriting, delivering pop hits full of substance, power, and Latin groove. The isolation Uchis finds herself on this album fosters a confidence, independence, and spunk that separate Isolation from her former releases; songs like "Killer", "Dead to Me", and "Feel like a Fool" find Uchis converting her disdain towards her former partner to motivation in finding someone who deserves her. Drawing admirable comparisons to Amy Winehouse in her sound, Uchis also employs her best production yet with help from Tame Impala's Kevin Parker, Brockhampton's Romil Hemnani, BADBADNOTGOOD, and The Internet's Steve Lacy, just to name a few. Kali Uchis evolves her sound in spectacular ways on this album, and with a bit more vocal power here and there, she'll continue to grow as a mainstay at the top of modern R&B.
9. Drip Season 3-Gunna
Gunna is not trying to reinvent the wheel with Drip Season 3. The nearly hour-long mixtape finds the Young Stoner Life Records signee sharing his sound with a lot of his Atlanta contemporaries, most notably Young Thug. Regardless of his influences, Gunna released an incredible project that accomplishes everything a trap mixtape should. Every single song on this project is catchy, and Gunna's knack for hooks has rightfully garnered him features on some of the year's biggest songs, with Travis Scott's "Yosemite" coming to mind. His melodic approach is best suited to the guitar-laden instrumentals scattered all over this album, courtesy of producers Turbo and Metro Boomin. With notable features on the up and comer's project like NAV's impressive hook on "Car Sick", Lil Uzi Vert on "At The Hotel", and Young Thug on both "King Kong" and the album's stellar promotional track "Oh Okay", Gunna shines as my pick for 2018's best new artist. His effortless flow over this collection of bass heavy tracks contributes to this mixtape's incredible replayability, which has put stand out tracks like "Lies About You" and "Pedestrian" in my most listened to tracks the year. If you need proof of Gunna's talent, look no further than his live rendition of "Top Off" for the COLORS Show on YouTube, performed entirely without autotune. The hook will be stuck in your head for days.
8. God's Favorite Customer-Father John Misty
Amazingly, Josh Tillman, known better as Father John Misty, wrote and recorded God's Favorite Customer in only two months. While deeply emotional, much like his 2017 album Pure Comedy Tillman ditches his prior pretentiousness, attaining an accessibility and relatability factor to this album that is unlike any of his prior releases. A brilliant mix of indie rock, folk, blues rock, and even some country, Tillman keeps it brutally honest on cuts like "Mr. Tillman" and "God's Favorite Customer", which present an internal dialogue trying to steer him down the right path, leaving Tillman wholly confused and distressed, as shown in the album cover. Growing up in a religious household, the title, God's Favorite Customer, refers to Tillman's over-reliance on looking for God's guidance early in life. With so much substance packed into a thirty- minute runtime, one would think Father John Misty would have to sacrifice the melody and enjoyability of this record to make a point, but that assumption couldn't be further from the truth. Tillman's talent for converting conversation into song, inserting profound metaphorical meaning into his hooks, "Disappointing Diamonds are the Rarest" being an example, speaks to why Father John Misty is so touted for his artistry.
7. Some Rap Songs-Earl Sweatshirt
In late 2018, it seemed Earl Sweatshirt's life was at its most turbulent. Losing both his father, the renowned South African poet Keorapetse Kgositsile, in early January and his friend and frequent collaborator Mac Miller in September, Earl's canceling of his tour citing anxiety and depression came as no surprise. What did surprise me was his release of this album. While not an accessible and poppy nor easily digestible twenty-two minutes, Some Rap Songs finds Earl confronting his depression head-on, making for the most profound and personal album in his discography. Using looped and glitchy samples that shy away from the cavernous production of 2015's "I Don't Like Sh**, I Don't Go Outside", Earl captures a sense of profound loss and confusion much less explicitly than in songs like "Grief" and "Chum" off his prior projects. The first single to this album "Nowhere2go" is one of the most impactful songs of Earl's career, masterfully keeping his fans up to date on where the quiet life he has led since his last release:"Yeah, I think I spent most of my life depressed/Only thing on my mind was death/Didn't know that my time was next-next, yeah, yeah/Tryna refine this sh**, I redefined myself/ First I had to find it." Other standout tracks like "Playing Possum", which effectively implements samples from award acceptance speeches given by both his mother, UCLA law professor Dr. Cheryl Harris, and his late father; "Red Water", and the instrumental "Riot!" solidify this project as Earl's best emotional catharsis. Some Rap Songs shows how, four projects in, Earl isn't afraid to sound different as a means of finding closure and achieving excellence.
6. TA13OO-Denzel Curry
On TA13OO, southern Florida rapper Denzel Curry diversifies his production, subject matter, and flow to make for his most enjoyable project to date. Curry's splitting the project into three parts made it easier to understand where he was coming from emotionally and conceptually in crafting these tracks. While TA13OO may not wind as tightly around a concept as an Isaiah Rashad or Kendrick Lamar release, it doesn't really have to. Denzel's strength has always been releasing fast-paced, loud, bass-heavy, and catchy tracks with a lyrical edge. That strength shone hard on his last release "Imperial" and it shines just as hard on TA13OO, on which Denzel unleashes catchy bangers in spades, such as "Super Saiyan Superman", "Percz", "Sumo", "Black Metal Terrorist", and "Vengeance". However, what makes this album unique is Curry's creation of some stellar tracks that don't follow his usual formula, as his attempts to do this on prior projects often fell short. Whether it be his message on police brutality, the cause of his brother's tragic death in 2014, on the track "Sirens, feat. Billie Eilish and J.I.D"; the album's best song, "Clout Cobain", which brings attention to the music industry's taking advantage of artists for virality; or the albums chilling opener, "Taboo", which discusses difficult topics such as molestation, Curry finds great success in conveying a variety of messages without boring the listener.
5. Astroworld-Travis Scott
For an album with so much hype, an album that fans anticipated so badly, Travis Scott absolutely delivers with Astroworld. The fact that this record somehow lives up to the insane hype that Travis Scott has built ever since the release of "Birds in the Trap Sing McKnight' in 2016 isn't even the most amazing part about Astroworld. During this album, Scott traverses every twist and turn of the Houston theme park that came to define so much of his childhood. He captures the rush that defines the theme park experience through the euphoric "Carousel", "Who? What?", "No Bystanders", and "Stargazing". He includes surprise features ranging from Houston's own Don Tolliver, who delivers my favorite guest verse of the year on "Can't Say", all the way to Drake, The Weeknd, Migos, and 21 Savage. Even more introspective and lowkey moments like the catchy "Astrothunder",  the dreamy "Skeletons", and the album's closer "Coffee Bean" bring the album to a smooth latter half. However, my favorite thing about this album is Travis' frequent homage to his hometown of Houston, Texas. "Sicko Mode", "RIP Screw", "Can't Say" and "Houstonfornication" all reflect his love for his city and the people who defined its culture, such as the prolific DJ Screw. Travis deserves the monumental success he has garnered with this album. He brings Astroworld back to life through the power of music.
4. Underwater Pipe Dreams-Inner Wave
Even though Underwater Pipe Dreams came out in 2017, a few extra tracks released in 2018, so I'm putting it on the list, as it easily one of the best rock releases I have ever heard. This album, Inner Wave's third full-length release, finds the Los Angeles-based garage band utilizing diverse instrumentation and synthesizers to back their best collection of songs by far. The tracks throughout the project, many of which are just instrumentals, sound magical, nautical, and carnival-like; the best way to understand the project is through listening to it. The band takes the listener to what seems like a different world through dreamy sequences on songs like "Jerry", "Bower", and possibly my favorite song of the year "Eclipse", which all revolve around waiting on a pipe dream and expecting the best, yet the most unlikely, outcome of a given situation. While songs like "Discipline", "Song 3″, and "I'm Aware" all deal with the loss of a lover, the optimism of these tracks and their euphoric instrumentals signify finding meaning through desperation and learning lessons through loss. The band cleverly uses the term "underwater" to signify putting a refreshing and infectious spin on their typical sound, making this album not only completely unique, but also addictive and infinitely replayable. If lead singer Pablo Sotelo puts more clarity behind his vocals, the band's next release could be my album of the year.
3. Negro Swan-Blood Orange
Devonté Hynes, also known as Blood Orange, is a British producer, multi-instrumentalist, and singer who has worked with the likes of A$AP Rocky, Mac Miller, and Carly Rae Jepsen. On Negro Swan, Hynes delivers a project as musically stunning as his 2016 "Freetown Sound" except with more focus, accessibility, and vocal confidence. This project discusses feminism, what it means to be black, and celebrates the odd-one-out, no matter what he or she looks like or does. My song of the year for 2018, "Charcoal Baby", speaks to the listener about allowing yourself to falter every once and a while in order to fully appreciate what makes you great, all over an invigorating guitar riff. Negro Swan is the most empowering release of the year because, before all else, Hynes shares these tracks to celebrate the beauty of humanity, as he sings on "Saint": "your skin's a flag that shines for us all." Other standout tracks like "Jewelry", "Nappy Wonder", and "Dagenham Dream" incorporate guitar, horns, piano, and guest vocals to improve the sonic basis of Hynes' many messages. Guest appearances from Puff Daddy, A$AP Rocky, Ian Isiah, and spoken word from transgender rights advocate Janet Mock remind the listener that the world Blood Orange creates on this project is inclusive, diverse, and sounds great, too.
2. Die Lit-Playboi Carti
What's so amazing about Playboi Carti is how he released the best rap album of the year, Die Lit, yet I still debate if it's his best project. His last release before this album, 2017's "Playboi Carti", was a trap mixtape that never skipped a beat, as songs like "Magnolia", "Dothatsh**", and "Yah Mean" were infectious in their simplicity and beautiful in their composition, Carti's ad-libs forming part of their beats. Carti gets even weirder on Die Lit, bringing trap music closer to punk. Ignoring the criticism of every rapper and critic stuck in the "good ol' days of lyrical hip-hop", Carti stays true to himself. Trading ad-libs and short bars with Travis Scott over seemingly no beat on "Love Hurts", switching between topics and repeating "lean, lean, lean, lean, lean" on the song "Pull Up", creating an auditory mosh pit on "R.I.P", and including verses from Gunna, Nicki Minaj, Bryson Tiller, his producer Pierre Bourne, and more are just a few of the ways Carti fills this surreal fifty-eight minutes. My favorite track on the album is "Flatbed Freestyle" on which Carti says essentially nothing of substance while making popping noises with his mouth as ad-libs. However, it would be a disservice to this album to pretend like it has no meaning, as on "Flatbed Freestyle", towards the end of the album, Carti repeats "one more pint," signifying that this album may be the product of drinking too much lean. As music listeners, we must acknowledge that great albums and incredibly unique musical experiences can lack an obvious meaning to us and still have great meaning to those who made them. Die Lit is like a huge bag of Sour Patch Kids that don't grate your tongue nor make you sick if you eat too much. This album will go down with the likes of Young Thug's Jeffery, Future's DS2, and Migos' Culture as one of the most important moments in trap music. The best way to understand why I love it so much is to experience it for yourself.
1. Bad Bonez-Michael Seyer
Number one and for good reason, after discovering this album I don't think I went a day without listening to it. Michael Seyer, Los Angeles based singer, producer, and guitarist for the band Banes World, released Bad Bonez in early 2018, an album that shows Michael's unbelievable growth since his hit "Pretty Girls" in 2016. The diverse song topics such as illustrating an acid trip in Santa Cruz on the song "Weekend in Santa Cruz", feeling lost in a life that's moving too quickly on "Motions", and his father's suffering from cancer on "Father" demonstrate Seyer's aptitude for songwriting. The synths, keyboard, guitar solos, and saxophone scattered throughout the project back the dreamy vocals; there's not a second I don't enjoy. The song Bad Bonez is the best intro I've heard in 2018, with an instrumental manipulation that feels like it is literally tugging you into the album, into a different world. Seyer outshines his contemporaries in the genre by avoiding vapid, vocally-droning, and underwritten love songs, instead opting to show love as sporadic, multi-faceted, and lucky, on tracks like "Show Me How You Feel (Eros)", "I Feel Best When I'm Alone", "Waiting for You", and "Lucky Love". Bad Bonez left me mesmerized by Michael Seyer's vision. This masterpiece is worth more than a few listens.