2021 ISU World Figure Skating Championships
Special thanks to Sofí Delgado of El Paso High School for their help on this article.
It's an obvious fact that COVID-19 has greatly affected sports, with many events being shut down to protect the health of the general public. As there are fewer cases in recent days, sports have begun to make a comeback, allowing games with limited to no audience. One of the sports that was able to continue and even have their annual international competition is figure skating, a sport that Sofi, my friend from El Paso, and I would rave about. We were able to watch parts of this year's COVID-19 restricted competition, and we had many, many thoughts to share.
———————
Derek: So… figure skating. (*giggles)
Sofi: It's been my latest obsession for the past few months. I know too much right off the top of my head. I can only roller skate, not ice skate. 
Derek: Well at least you got that. The one time I tried roller skating, I landed on my butt.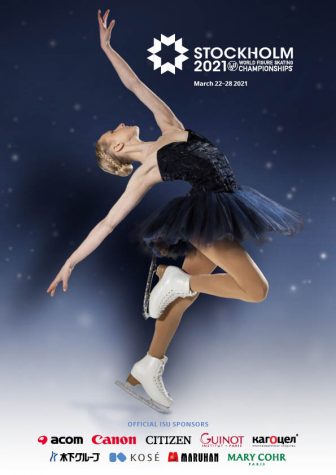 Sofi: Bold of you to assume I haven't. Anyways, let's get back to the matter at hand. 
Derek: Yes, yes. So the ISU World Championships were held in Stockholm this year, but I'm sure no one got the chance to actually enjoy Sweden's wonderful healthcare system.
Sofi: It was one of the bubble competition things. No one was allowed to leave. That didn't stop positive COVID cases from occurring though. A female skater from Belarus tested positive upon arrival. 
Derek: What a lovely way to begin the competition… How were the judges during this year's COVID-restricted competition?
Sofi: Despite this being a world championship, most of the judges were European. The scores were quite controversial at this competition. 
Derek: Hmmm. Let's start out with some highlights, shall we?
Sofi: Yuma Kagiyama placed silver at his first world championships! An impressive feat. Alexandra Trusova successfully landed three quads in her free skate. She placed third overall. This was also her world debut. Anna Shcherbakova placed first despite only being 16 at the time. She turned 17 on Sunday after the competition. 
Derek: I really enjoyed Yuma's performance! It's hard to believe that he's only 17 – around our age– and he's already making a splash on the world stage! Same goes for Alexandra Trusova and Anna Shcherbakova, although I didn't get to see their performance. Honestly, these are the teens that your parents bring up when they ask why you're not successful.
Sofi: It's not only the teens who were winning. Elizaveta Tuktamysheva, 24, placed second in the women's singles after placing first six years ago. She has made quite the comeback this season. 
Derek: *nods. Wait, was she the highlight that you sent me via Instagram? Ya know, that one in which I asked "How is it possible for a person to look robotic on ice?"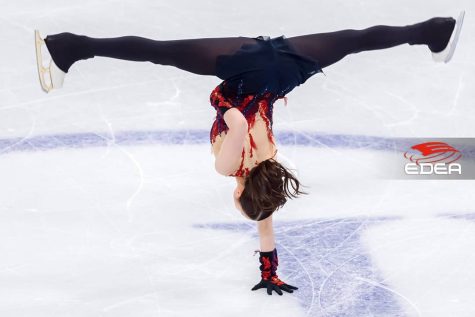 Sofi: Elizaveta Tuktamysheva's free skate? She ended up second overall. Her scores were rather controversial. While she did have two triple axels, a jump with one of the highest base values, she added a three-turn in between her triple axel-double toe combo. She also fell on her triple flip. In fact, the women in the top three spots all had falls. 
Derek: Man I really wished I had seen more of the women's skates. I'll definitely watch their recaps later, right when I'm not being bombarded by another hell week.
Sofi: You have to watch Karen Chen's free skate. She ended up in fourth place after Bradie Tennel placed ninth. Karen Chen earned the U.S. three spots in the women's singles at the 2022 Olympics! She did the exact same thing back in 2017. 
Derek: I'll definitely do that! It does sound like the skaters are a little rough on the edges this year, though.
Sofi: It was obvious the pandemic has taken a toll on figure skaters this year, especially in the pairs. Most missed elements in their free skate or missed the required combo jump. Even the world champions in pairs, Anastasia Mishina and Aleksandr Galliamov, made a mistake on their giant three Salchow Euler Three Salchow.  It wasn't perfectly in sync, but they were the only team with a triple-triple combo. A salchow is a jump taken of the inside edge of the skate. An Euler is a half loop jump taken in between two jumps and usually followed by a salchow or flip.
Derek: Well, the skaters didn't really get a chance to practice much since sports were a big no-no last year. I did hear, however, that Russia ran into some controversy because they continued letting skaters practice and not following COVID-19 guidelines. I noticed that they didn't compete under the Russian flag.
Sofi: Russia is currently suspended due to previous controversies with doping in their athletes, so skaters were competing under FSR, the Figure Skating Federation of Russia. The Russian flag can't be displayed nor could the national anthem be played.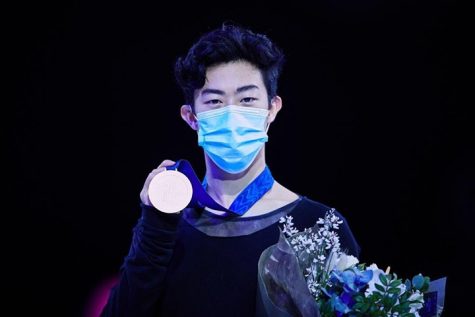 Derek: Ahhhh. Ok, I want to talk about the men's free skate because that was certainly very intense (and the segment I saw the most out of). What were some of your favorite programs? 
Sofi: From the men's free skate? Obviously, I loved Nathan Chen's free skate. He landed five quads cleanly. I wasn't expecting him to land his quad lutz after he missed it in the short program and at US nationals during the free skate. 
Derek: I mean, Nathan Chen is the quad king for a reason! He certainly made a comeback after landing third during the short program! 
Sofi: I loved Donovan Carrillo's free skate. I was so happy to see a skater from Mexico end in the top twenty! 
Derek: I also loved Donovan Carrillo! He seems so spirited and lively. I'm sure he has time to grow and eventually since on the international stage! 
Sofi: Man, it's such a shame Yuzuru Hanyu made so many mistakes in his free skate. His free skate this year has such an interesting step and choreographic sequence. He wasn't the only big-name skater to make so many mistakes. 
Derek: It truly is a shame and I felt so bad for him! I'm sure we both expected him to take the gold from Nathan. 
Sofi: Yuzuru Hanyu did skate a fantastic short program. (Definitely recommend watching it.) He also earned Japan three spots in the men's singles at the 2022 Olympics, so he was still successful in my book. In the press conference, he stated he wanted to go home and continue practicing his quad axel, a jump no skater has landed cleanly in competition. This is not the last we'll see of him.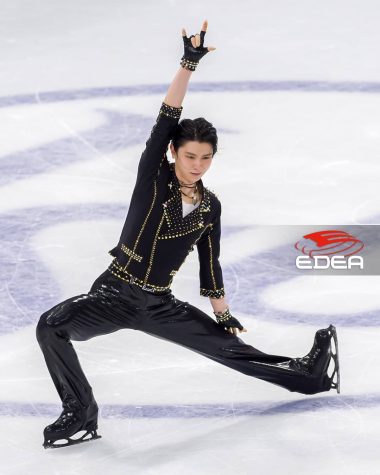 Derek: But you know who I wished we should've seen in the free skate? Vincent Zhou.
Sofi: Vincent Zhou had five quads planned for his free skate. It was heartbreaking watching his short program. He fell on the three required jumps, and they were all under rotated. He later stated he had experienced an ankle injury the week [he] was supposed to fly to Stockholm. I hope to see him do better next season. 
Derek: Me too… Well, it was nice to nerd out on figure skating with you.
Sofi: Thanks for giving me the opportunity to talk about something I'm so passionate about. 
Derek: No problem! Wait, when's the next competition?
Sofi: The ISU World Team Trophy in Figure Skating will be held in Osaka, Japan April fifteenth through the eighteenth. 
Derek: Oooo. I'll be sure to put that down on my to-watch list. Hehe, maybe we can do this again.
Sofi: That would be fun!