Shreya and Siona's Holiday Cooking Blog!!
It's that magical time of the year again where we can hear Mariah Carey's voice blasting from every shop's window, smell the sweet waft of baking cookies, and see the glitter of lights dangling from front yard trees and housetops roofs. According to Buddy the Elf, "we elves try to stick to the four main food groups: candy, candy canes, candy corns, and syrups." Although we are venturing out of the four main elf food groups, Siona and Shreya have decided to compile their favorite holiday meal and dessert recipes to honor the holiday spirit. After all, Buddy the Elf does say to "treat every day like Christmas." 
Part I: Shreya's Christmas Morning Simple Holiday Dishes
We're going to start off simple: hot chocolate. Even if you have no knowledge of cooking, making hot chocolate is a must, as it's a warm drink perfect for the cold weather. However, this hot chocolate will slightly deviate from the traditional version, as I created frothy hot chocolate. I am by no means incredible at cooking, so I used Giovanni's hot chocolate powder. For the base, I've seen people use both milk and water. From my experiences, milk seems to give a richer taste versus the water's more chocolate taste. This time, I just used about a cup of milk. Next, I had to add the powder itself. The amount of powder to add depends on how "chocolatey" you want the hot chocolate to be. I was making the hot chocolate with my sister, and I added about three spoonfuls whereas my sister only added one. Trust me: the taste that three spoons of chocolate and a cup of milk creates is fantastic. Finally, after stirring the powder and milk together, I put it into the microwave for about two minutes; I don't like my cocoa too hot. Finally, I added a twist to my hot chocolate: I put it in a frothing machine. I'm not the biggest fan of froth, so I only put it in for about thirty seconds. Finally, I topped the cocoa with some of the powder from the bag. An alternate topping that my sister added was whipped cream. As a chocolate lover, I couldn't turn down the cocoa on the top, but my tendency to create a mess with whipped cream drew me away from using it. However, if you're a lover of any sort of sweet, feel free to add whipped cream, cocoa, and any combination of sweet toppings to make this dish your own!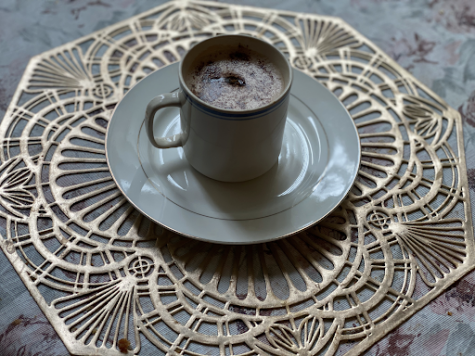 The next dish is pancakes! I ended up making chocolate strawberry pancakes, and I'll call it "North Pole Pancakes"! I made this dish with my family, which made it all the better. For these, the first step was creating the batter. My sister and I cracked two eggs, then we added a cup of milk. Next, my mother added two cups of pancake mix. I used an automated stirring tool to stir it. It was my first time using that tool, but it was fairly straightforward. After stirring it, we added extra ingredients: strawberries, chocolate chips, and vanilla. It turned out the only chocolate chips we had were white chocolate chips, but I'm not the biggest fan of white chocolate. Therefore, we found a dark chocolate bar and crushed it: improvised chocolate chips! Next, my sister and I cut strawberries, and, lastly, I added about a teaspoon of vanilla. Of course, we couldn't forget about ten spoons of sugar. Finally, it was time to make the pancakes. My family made two kinds of pancakes: one type was huge but fairly deformed, and the other looks nice and is shown in the image. For the former, I put about half a tablespoon of oil on the pan and swirled it around. Then I added about a cup to half a cup of the batter onto the pan. I waited till the sides were cooked, then flipped it. Finally, I put it on a separate platter. Altogether, I made about seven big pancakes. However, the best-looking pancakes were smaller, and my sister used a small pancake cooker to make them. Using the cooker seemed a lot easier than using a pan. But I suppose without the pan, it wouldn't truly be pancakes; rather, I suppose it'd be cooker-cakes? After my sister made a stack of pancakes with the remaining batter, all that was left was decorations! We use some of the leftover strawberries to top the stack then stabbed it with a candy cane. And thus our stack of pancakes earned its name: "North Pole Pancakes."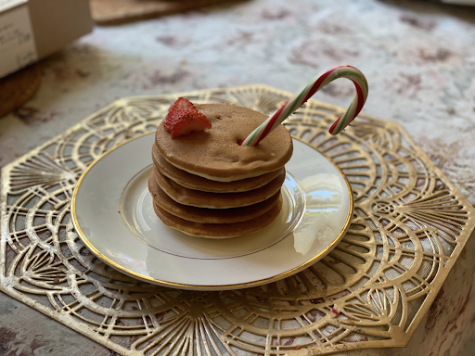 Part II: Siona's Holiday Delectable Desserts 
The first holiday dish on the list is, of course, cookies. Following the recipe for Tasty's Spiced Hot Chocolate Cookies, linked here, I mixed the sugar and eggs using a KitchenAid. On the second step, however, I quickly realized that I did not have any unsweetened chocolate in the house! The result was a frantic 10PM Walgreens run where I scanned the candy and baking aisles for any hint of unsweetened chocolate. My endeavors were unsuccessful. Instead, I settled on a 95% dark chocolate which turned out to be a decent alternative. Upon arriving home, I boiled a pot of water and placed the 4 ounces of chopped 95% dark chocolate in a bowl with a stick of vegan butter. I then placed the bowl atop the boiling water and stirred until the chocolate and butter melted together into a dark liquid. This dark liquid was then poured into the egg-sugar mix. After adding all the dry ingredients, I stirred in the chocolate chips. At this point, the dough was a sticky solid and formed a nice ball-like shape when clumped together. I layed out nine clumps on a cookie sheet and put the dough in the oven for thirteen minutes at 350º. Thirteen minutes turned out to be the perfect cooking time as the balled clumps had spread out to form nice mounds of cookies. The smell wafting from the oven, along with Justin Bieber's Christmas album, brought the ever-so-nostalgic feeling of holiday spirit back to the house. As an alternative to gelatin, I used coconut whipped cream, sprinkled with mini chocolate chips, instead of marshmallows as a topping to some of the cookies. Biting into the hot chocolate cookie was unbelievable — the spice of the chile powder and cayenne pepper mixed with dark chocolate into a butter-sugar-doughy delight. Truly scrumptious. Dear readers, if you have free time over your holiday break, I highly recommend you try to take a shot at making Tasty's Hot Chocolate Cookies Recipe.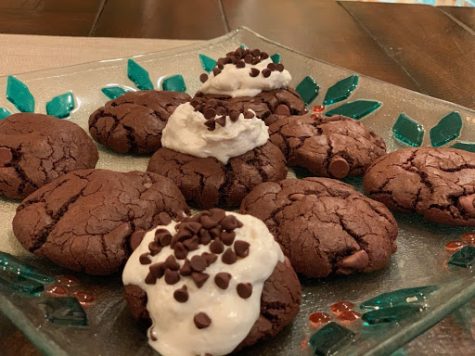 Of course the next on the list is a classic holiday dessert, Pumpkin Pie. Although some may argue that pumpkin pie is more of a Thanksgiving dessert, I believe that pumpkin pie makes the perfect Christmas dessert. What with the way your fork cleanly slides down the filling, the warm creamy goodness that seeps into your mouth, the crunchy golden crust, all topped with a dollop of whipped cream or ice cream (in my case, dairy-free!), it's no wonder why pumpkin pie finds its way to the Christmas dessert table! Following the recipe for Farmer's Market's Food's Organic Pumpkin Pie, I used a KitchenAid to mix a can of the Farmer's Market's Food's Organic Pumpkin Puree with the nutmeg, cinnamon, ginger, salt, and cloves. Soon after, I added the sugar, eggs, and sweetened condensed milk. It formed a very thin liquid, which I poured into a nine-inch pie shell and plopped in the oven. For the first fifteen minutes, the oven was at 425º, and then for the next thirty, I lowered it down to 350º. After checking on it, I left it in for about another twelve minutes for the filling to properly solidify. Soon, it was finally done! Topped with a swirl of almond whipped cream, the delectable first bite of the pie was overwhelming — sweet and smooth with its crunchy golden crust and cool almond whipped cream. Whether it's Thanksgiving, Christmas, or even the middle of July, pumpkin pie is a dessert that will never disappoint.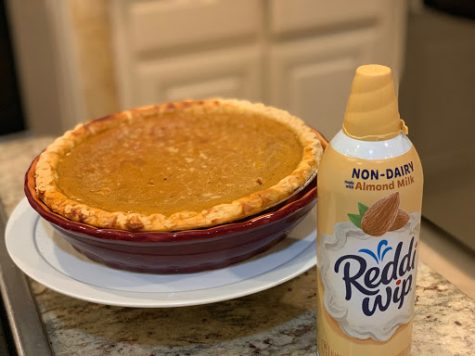 Up next on the recipe is a holiday classic: Vegan EggNog! The thought of a raw egg in a glass has always given me a bit of a scare. However, with a vegan twist, eggnog has become my new favorite holiday drink! Traditional eggnog is made by whipping eggs and sugar, and then stirring in milk and/or whipping cream and nutmeg on a stovetop. The recipe on Minimalist Baker, however, was made entirely in a blender! No fancy work was required! Following the recipe, I blended the almond milk, full-fat coconut milk, maple syrup, vanilla extract, cinnamon, cardamom, and nutmeg! After blending a few times, I taste-tested the eggnog until it was to my liking! The eggnog can actually be stored in the refrigerator! After cooling for a few hours, I then poured the eggnog into small plastic cups for Thanksgiving Dinner and watched it quickly disappear! If you are looking for a fun, simple recipe that will be sure to impress your holiday guests, I highly recommend you try the Vegan EggNog! There's nothing like the warm taste of creamy coconut milk combined with sweet syrup and the classic cinnamon-nutmeg-cardamom blend to spice up the holidays!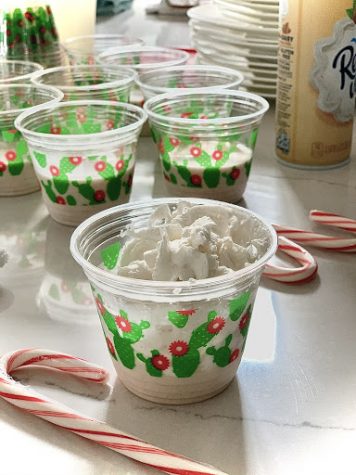 As this year's holiday celebrations call for a change of scenery, the best way to celebrate a home-bound Christmas is in the kitchen! Whether it's making Hot Chocolate Spiced Cookies to leave on the doorstep on Christmas Eve or North Pole Pancakes for breakfast on Christmas Day, spending time in the kitchen is the best way to spread holiday cheer. Except maybe we can all take a page out of Buddy the Elf's book and avoid sticking eleven cookies into the VCR this Christmas!