Student Spotlight – Karina Sauceda
         It was a quiet morning. The sun slowly rose above the horizon, barely peeking from Mr. Stancek's window, and small creaks and buzzes from North Hall's stairs bounced off the cold walls. Arriving an hour before my first period, I walked past the bean bags, strolled by Mr. Lindsay's room, and turned the corner into Mr. Stancek's classroom for my first period. Staring back at me with sharp eyes—daggering—were two balls of floating plastic, spherical and shiny. Early in the morning, backpack on and coffee in hand, I was pleasantly greeted by two balloons that reminded me of my favorite memory with Karina: Noodle and Nurdle.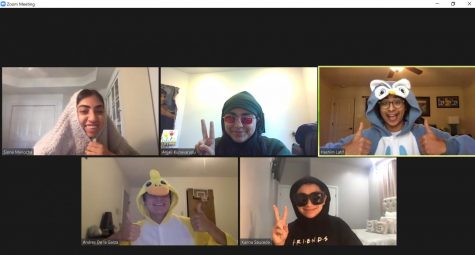 Noodle and Nurdle were two balloons Karina and I named. Born from a physics lab in junior year on buoyancy, our balloons integrated into our student lives, and we jointly and comedically reunited during lunches or free periods to play with our new inanimate friends. We obsessively visited Mr. Stancek's classroom, hoping to catch the slightest glimpse of our "balloon family." With our excitement, we drew faces on our balloons using sharpies, shared the loudest laughs, and annoyed Mr. Stancek playfully with our constant visits. Our memory with our balloons is quite crazy, but it perfectly encapsulates Karina's personality and our friendship.
         Karina Sauceda joined the Keystone community in 3rd grade. Adaptable and extremely hardworking, she's Co-President of Wellness Council, a huge help for student-led activities, and an overall sweet and kind friend. I've grown to understand Karina the most in high school, especially during our playful banters, Among Us games (even though she hates playing imposter), skribbl.io challenges, and movie showings. During Thanksgiving break, we watched High School Musical 3: Senior Year and The Greatest Showman with Nicole, Kaitlin, and Anjali together. When she's not watching Zoom movies with friends, she's hopped on our class Discord, showing us a closet and desk tour, cutting watermelons, messing with candle wax, or driving to Dairy Queen with her camera on. The best Discord moments with Karina are always at 1 a.m. when she's working on an English project or Environmental Science assignment in advance with pent-up energy and a bowl of Kraft Mac & Cheese. She's so fun and bubbly to be around, in-person and virtually.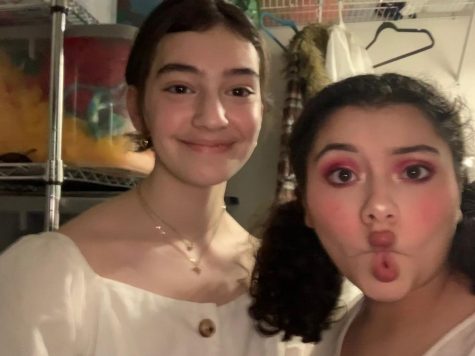 When Karina's not off chatting on Discord or hanging out with friends, she's most likely bike-riding with her family, listening to a podcast in a 40-minute shower, baking cobblers, or fangirling over musicals. Despite all of her relaxing hobbies, she's a very responsible and committed individual. When she has a goal, she sets her mind to it. I truly believe Karina's specialty is courage. Having understood the tales of horror and difficulty in physics, I noticed how committed and amazing Karina was during that class. She reviewed chapters beforehand, spent time understanding the material with the teacher personally, and designed elaborate notes and methods to consume the difficult content in intervals. When confronted with an academic wall in any subject or field, including physics, she pushes through to the end. During her audition for Into the Woods, she rose gallantly as Cinderella's blind sister (tripping occasionally) despite nervousness or pressure. She works meticulously at Alamo City Dermatology, refining her will for responsibility, reassurance, and guidance. As part of the Wellness Council, I worked with her tirelessly sorting groups, brainstorming activities, and making a genuine impact on people. Whether through school, theatre, work, Wellness Council, or her friendships, if she sets her mind on a goal, she charges for it despite the odds.
         I truly admire Karina, and I've learned more about her these past two years. She's very internally strong, hard-working, approachable, and courageous. And although our pet balloons, Noodle and Nurdle, are gone, our laughs, memories, and fun skribbl.io games last forever.
About the Writer
Allison Wu, Co-Head of Media and Coordinator/Co-Student Life and Culture Editor
Ali Wu, a senior, is excited to represent art in the Keynote with Siona this year! She aims to connect the Keystone community through writing and comics!...