Keystone Soccer 2018: A Review
In many ways, Keystone's soccer season can be seen as a rebuilding one. A core group of senior starters last year had graduated. There was a large group of freshman playing soccer. A sizable number of players who had not started last year were an integral part of the team this year. Additionally, the goalie this year, Carlo Addington (12th grade), had never played in that position before. The team focused on the basics, building a strong foundation for the next few years. Everyone got to play some minutes this year, gaining valuable game time and experience for years to come. This season was, undoubtedly, one of change.
"
The team focused on the basics, building a strong foundation for the next few years.
Let's start with the keeper and work our way up. Although Carlo had never played keeper before, he improved immensely. Working every day with Coach Kyle Unruh and Assistant Coach Chris Rojas, Carlo developed his keeper instincts. He was a strong leader, taking charge of the defense and instructing them when needed. His efforts in goal and amazing total of 110 saves earned him 1st team all-district this year, as well as a Coach's Award at the end of the season.
The defense proved to be a young one, with only one upperclassman in the back line for most of the time. Anchoring the 4-4-2 formation, Paul Conroy (11th) and Aidan Coleman (10th) paired as center-backs , flanked by Yousef Tirhi (9th) on the left and a mix of Patrick Conroy (12th), Hashim Latif (10th), and Avril Davidson (9th) on the right. The defense this year was not as airtight as years passed. However, no seniors were on the back line, ensuring that the chemistry developed during this season, especially during the latter half, will only get stronger. The emphasis the coaches placed on winning aerial duels and 50/50s and breaking the game down to its basics improved the defense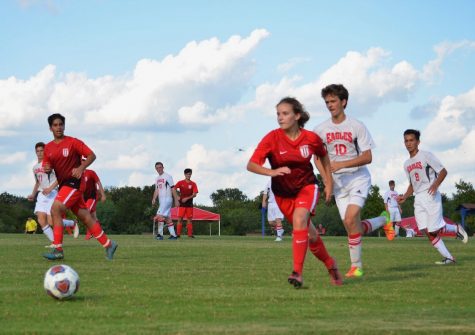 (as well as the offense). In addition to sharping their fundamentals, players could, learned to adapt to the situation. They did not have to mindlessly blast and clear the ball every time it came close to them.
Aidan surged forward often, dribbling through players left and right and providing key assists. When Aidan pushed forward, Paul stayed back, covering the gap that was left. He took advantage of his height, heading balls clear and booting them long, well out of danger. Hashim was the surprise package in the defense this year when he played right-back, a new position for the young player, developing partnerships with Andy de la Garza (10th) in midfield and Aidan in defense. Aidan was named a part of the 2nd team all-district and received the coach's award, while Paul received honorable mentions and the Leadership Award.
The midfield had older players than the defense. Emma Guy Bishel (10th) and Arianna Pachecano (12th) played on the left and right wings, respectively. Andy and Krish Ajmani (12th) played in the middle of the park. Emma and Arianna worked tirelessly on the wings, running up to provide crosses while tracking back to help out the defense. Andy in particular stepped up this year, providing heaps of important goals and assists. Some of the goals he scored were his signature long shots from outside of the box. Andy played as a central attacking midfielder later in the season, developing a strong partnership with the two forwards. Krish played well this year, converting from a traditional center midfielder to a central defensive mid, staying back to help out the defense, and distributing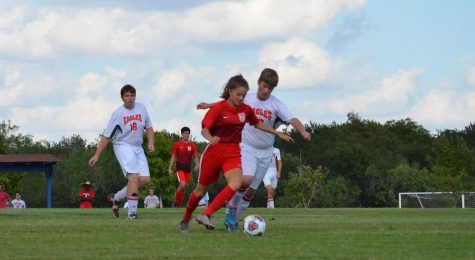 the ball from further back than usual. Nicholas was the surprise package in the midfield this season when he came on against Lutheran and played in a manner as cool as a cucumber. However, he threw up and was subbed out. A few minutes later, he was subbed back in and scored Keystone's only goal. Talk about toughness! Andy was named in the first team all-district and received the MVP award for his scintillating form this year.
The forwards this year were primarily Adam Terenyi (10th) and Marshall Kippenberger (10th), although Daniel Terenyi (12th)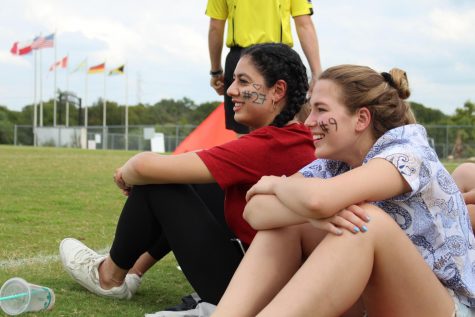 also rotated in. Adam also played on the left wing. Injuries played a large role in deciding who would play as the forwards. The Terenyi brothers struggled with injuries, with Daniel sustaining a long term injury which afflicted him throughout the season. Marshall and Adam proved highly effective in front of goal, with the former providing good movement off the ball and much-needed physicality and the latter racing down the touchline with his speed. The two (and Daniel, when fit) ran defenses ragged with their interchanging movement, especially when Andy moved to a more attacking role and provided the two with good passes. Marshall and Daniel was named in the second team all-district. Adam received honorable mention for his play.
When compared to previous seasons, this one was not as good as it could have been. The standards set by past teams were high. However, seasons like this are important. A season of practicing fundamentals and of every player getting game time and gaining experience is needed. Seasons like this ensure that it won't be long before Keystone's varsity soccer team is back to its roaring best.