Originating during the Italian Renaissance, ballet has always been the bridge between sport and art. Not only is it physically demanding and enriching, it is an eloquent form of storytelling that touches all types of audiences. With every extension of the arm, every head lift, every passé, a dancer evokes their range of emotions and those of the characters they play in a beautifully raw way. The vulnerability and desperation of Odette in Swan Lake, the innocence and exploration of Clara in The Nutcracker, the gracefulness and joy of the fairies in Sleeping Beauty—each role takes a plethora of effort and passion, which is no easy feat when added to the continuous list of aspects to focus on when dancing.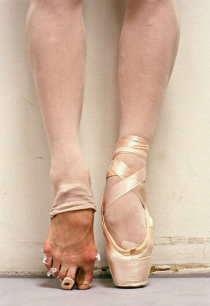 Ballet isn't a light task; it's not a sport you can practice sporadically. It is a dance of physical and mental strength. Take a second to realize that ballerinas balance on their toes on a hardened fabric and cardboard box inside a pointe shoe for hours at a time during a performance. In order to maintain that balance, every other muscle in the body also has to be balanced. Even with the most pristine balance, being on pointe (dancing on your toes in pointe shoes as shown in the picture above) still takes a toll on a ballerina's feet. What is invisible to the audience—what no one sees unless you're a ballerina yourself—is the bleeding, bruising, and exhausted supply of band-aids underneath the satin and ribbons. And yet, ballerinas still manage to execute each move almost flawlessly (and I say almost because there is always something to improve upon in ballet—perfection doesn't exist). 
As much as balance is integral, strength is its sister in this sport. Every single muscle in your body must be active and focused. Every ab, every quad muscle, every hamstring, every finger has to be constantly engaged in each exercise and combination. 
Take a pirouette, for example. On stage, it looks beautiful, effortless—like s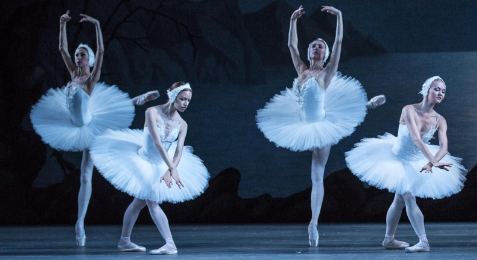 econd-nature to a dancer. What people don't realize is the effort and concentration behind just one step out of the hundreds that a ballet performance holds. Your feet must be parallel to each other, your weight shifted slightly forward on your front foot. Your arms, one bent towards your chest and the other out to your side, must be held up in place with enough tension so that if someone tried to push them down, they wouldn't budge. When you push off from the ground, your arms must come to first position in front of your chest, and your leg must bend to immediately attach your toe to the front of your knee. In order to turn, your foot must rise so that you can spin on top of your toe,
before you land. Not to mention, you must "spot" as you spin, or, in other words, turn your head around sharply and quickly to maintain eye contact with whatever object you choose to focus on in order to maintain your balance. All these thoughts must become automatic and must be carried out in the span of just a few seconds. 
The technique and difficulty of ballet often goes unnoticed, overshadowed by the beauty and artistry of a dancer's performance. While such artistry is the main attraction of the sport and what draws dancers and audiences alike to ballet, it is crucial to recognize the endless behind-the-scenes time and effort dancers put in that allows them to evoke such elegance and skill.