With the fall season approaching, some of us may feel the pressure to throw ourselves in the midst of the supposedly changing colors, commercialized pumpkin foods, run around in the grass, or read a book under a tree while bundled up in a warm wool sweater. We're told to enjoy all of these fun seasonal treats while they last. I, for one, certainly feel the pressure to buy all of the limited Starbucks drinks before I have to wait until next year. But sadly, I also can't help but feel a little disappointed that most of the leaves here in San Antonio aren't changing color. Autumn always has me conflicted in Texas. I can trick myself into feeling cozy, snug, and festive, but that feeling never lingers once I go outside and realize I don't even know what to do with myself! But there's definitely more to fall than pumpkin flavored drinks and pretty leaves, which is why I'm here to help you find seasonal joy while it lasts so you don't come out of this fall season feeling disappointed!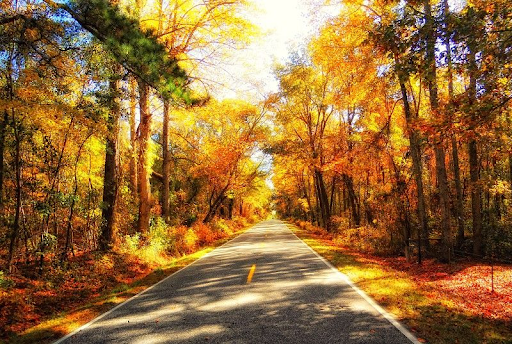 Outdoors
During the fall, it's pretty much mandatory to go frolic around outside! Even in the Texas heat, there are still many fun seasonal activities that are hard to pass up. Here are some to consider:
Pumpkin Patches

– Although some may think that only children can enjoy pumpkin patches, I say that pumpkin patches are for all ages to enjoy! Some fun activities usually seen at pumpkin patches include corn mazes, hayrides, food trucks, and of course, many patches sell pumpkins. Here are some

pumpkin patches

you can take a look at!

Camping

– Camping is one of the best ways to appreciate nature. If you're up for around a two-hour drive to see some actual fall colors in Texas, look no further than the quaint yet gorgeous Lost Maples National Park. You can engage in hiking, fishing, birding, and of course, the main attraction of camping. There are even "primitive campsites" available for those who want to truly immerse themselves in nature, although I'm sure most people would prefer electricity and water! Lost Maples is not the only campsite open in Texas during the fall, but it surely has some of the most breathtaking views. If the full camping experience isn't really your thing, you can always just go hiking at any designated park. My personal favorite park for hiking is Friedrich Wilderness Park. Especially with the weather cooling down, I highly recommend giving hiking a try!

Lazy Day

– For those lazy folks who just don't want to get up and engage their minds or bodies, don't worry! You can still enjoy the spirit of fall with some more toned-down outdoor activities, such as going on a drive around the countryside (it doesn't need orange leaves to be pretty!), having a picnic, or just watching the sunset from the comfort of your backyard or through a window.
Indoors
Some days, though, especially in Texas, the heat is just too overpowering to get outside. So, what can you do then?
Decor

– Everyone's absolute favorite fall activity nowadays seems to be buying a bunch of decorations and setting them up. But if you'd rather opt for cheaper options, there are other ways to have fun while making fun decorations for your house! Candles are usually somewhere around $15 – $30, but definitely worth the investment. Candles can function as great decorations while also smelling just as great! Some typical fall scents are vanilla, cinnamon, apple, and pumpkin. On average, pumpkin prices can range from $5 to $25 depending on size. They make cute little decorations whether they're made into art or not, but if you want to get creative, you can always try and carve one. Here's a list of

easy pumpkin carving ideas

. If carving seems too daunting, you could always just draw on the pumpkin or put stickers on it!

https://thishealthykitchen.com/creamy-autumn-soup-squash-pumpkin/

Relax – Granted that decorating seems like too much of an obligation to you, the fall season can also be an invitation to sit down, unwind, and decompress. Reading a book is always an option. No matter what season it is, everyone loves getting absorbed in a good book. Some relaxing and tasty fall drinks that require little effort to make include apple cider, pumpkin spice hot chocolate, and warm teas of any kind. And since everyone simply adores pumpkin during the fall, I can't forget to name some pumpkin recipes and foods. There are pumpkin pancakes, pumpkin bread, pumpkin muffins, pumpkin dip, and of course, pumpkin pie. My personal favorite fall recipe that isn't pumpkin but still tasty and comforting nonetheless is sweet potato soup. Making an apple pie is somewhere high up on my fall food bucket list.
Now that you have some ideas to make the most out of the upcoming season, it's your turn to go make a bucket list of your own, and remember to have fun this fall!
Sources
https://cowboyslifeblog.com/pumpkin-patches-san-antonio/
https://tpwd.texas.gov/state-parks/lost-maples
https://www.purewow.com/family/fall-activities
https://www.bhg.com/halloween/pumpkin-decorating/easy-pumpkin-carving-ideas/
https://tidymom.net/pumpkin-spice-hot-chocolate/