Your Guide to the Keystone Halloween Cake Contest
From mid-August through October for the last four years, my life revolved around Pinterest posts, Sally's Baking Addiction recipes, and endless bottles of red food coloring as I prepared for Keystone's annual Halloween Cake Contest. For those unfamiliar, one of the biggest events for the high school Spirit War is the all-encompassing Halloween Contest in October, which includes contests over cake design, skits, costumes, pumpkin-carving, and more. Throughout the fall, numerous class meetings are dedicated to the planning as well as a significant amount of outside work. The cake competition is particularly infamous for having extreme, all-out submissions—precisely what makes it the best event of the year.
As one of the major parts of the larger Halloween Contest for Spirit War, the cake contest has garnered significant amounts of support from the Class of '23. Every year (apart from 2020, when there were multiple submissions), we would gather a group of at least half a dozen students and have multiple cake decorating sessions—with a practice cake before the final version—and at least 20 meetings talking about inspiration before we finally landed on an idea. It is my humble opinion that my cake crew and I were stiffed twice during our tenure: our freshman year in 2019 and our junior year in 2021. But each year, we returned to the drawing board to come up with a bigger and better idea. Considering my final Halloween contest is over and done with, I thought I might catalog what I've learned through the last four years to give the future classes of Keystone a few tips and tricks to getting through my favorite event of the year.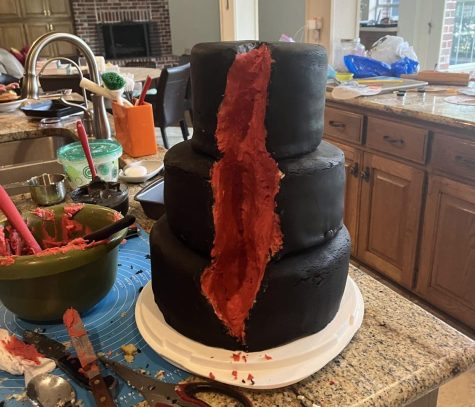 There are generally two types of cakes that garner support or win. First is the hyper-realistic gory cakes—think stabbed heart or bloody brain—and second is cute and detailed—think haunted house and more family-friendly designs. It depends on the judges to see which kind is preferred. In our freshman year, we had a sheet cake with a gingerbread house and a graveyard decorated, complete with puns on the gravestones and cotton candy fog. Despite the hours we put in, it lost to the Class of 2020's bloody brain cake. In contrast, 2021's contest saw our skull cake splattered with blood—much gorier than our freshman year—come second to Class of 2025's tiered cake with a haunted house theme. In both our sophomore and senior year—the years we won—we tried to split the difference. In 2020, we opted for a white cake with red-dyed white chocolate ganache poured on top and the bloodied heart on top with a knife. This year, we had a black, tiered cake with roses but with a bloody gash in the center inspired by the geode cake design. Part of the game is to know your audience—the coaches who were judging in our freshman year liked the gore while other teachers said they wanted the cake to look appetizing—but being able to appeal to a wider audience may also help.
A second point of contention is what to make the cake out of. The competition is judged on the look and decoration of the cake, and the judges do not typically taste the cake. That being said, it is fundamentally a cake competition, and I believe that the cakes should be just that. Though our freshman year cake included a gingerbread house and some cotton candy, the base was still a cake. The same went for the future cakes: though we often decorated with some fondant, the bases of the heart and skull were still cake. We made sure to emphasize to the judges every year that our cakes were 100% edible. We typically liked to have fun with the flavors—marble cake dyed orange and black, red velvet—but they don't necessarily affect the judging (though you still want to serve it to your classmates).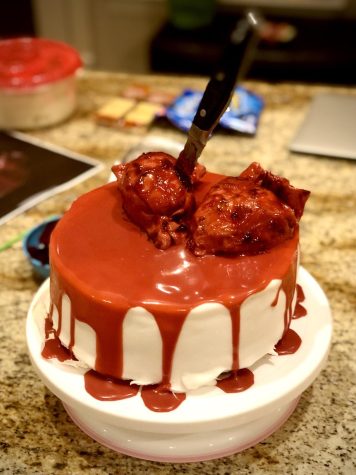 We tried to use some special recipes to help us out. My personal favorite was making the piping gel, which we used for three of our years. When freshly made at room temperature, it's perfect for painting and splattering, but when you refrigerate it, the (entirely edible!) gel takes on a darker color and gloppy consistency that adds more gore for your "blood." The cotton candy that we used for our freshman and senior year also holds a special place in my heart. We made it with a cotton candy machine I have, but store bought should be fine. It's a gorgeous yet edible addition to cakes that can look like fog or even spiderwebs if done right—but you should be careful not to leave it out too long or else it will dissolve from the moisture in the cake and the air. Third, we reinforced our buttercream. Both in 2021 and 2022 (and likely in future years), the cake competitions have taken place outside with the cakes often in direct sunlight. Your average American buttercream is liable to melt, which could easily ruin your design. European style buttercreams, which often use a meringue base, are better at holding up in the heat. A few times I tried swiss-meringue buttercream (SMBC), but one of my failures as a baker is being consistently unable to get that meringue quite stiff enough. I probably should have bitten the bullet and gone with italian-meringue buttercream (SMBC's more technical cousin), but alas. Whether we used American or a slightly loose SMBC, we still added a few tablespoons of meringue powder—an ingredient found easily in the baking aisle of HEB—to strengthen it. Though it didn't always work 100%, it certainly helped prevent our cakes from falling over entirely.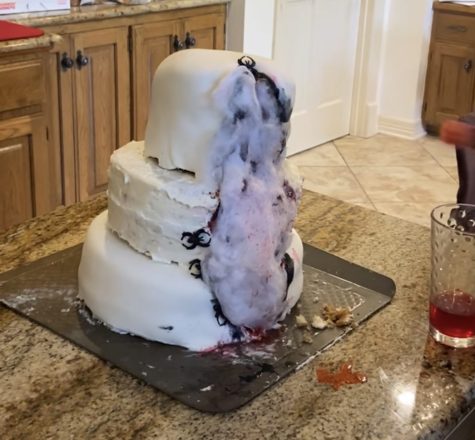 Finally, I highly recommend planning ahead and practicing. We started baking the cakes and making frosting ahead of the actual decorating session, which often took six hours or more—much longer than expected. Each year, we made a practice cake two weeks or so before the final round, and it absolutely helped every time. In our freshman year, the sheet cake recipe didn't quite pan out. In our sophomore year, we decided to alter the design slightly. In our junior year, our skull painting needed a bit of work. In our senior year, we changed from white to black, chose to add flowers, and practiced our live-action blood splattering. Suffice to say, practice makes perfect. Without the previous sessions, we wouldn't always have been able to fix our mistakes, and we could finalize our designs by seeing what worked and what didn't. Plus, it's fun, and you get extra cake.
And now you should be prepared to make a banger cake in the fall! Though it's merely April, it's never too early to start planning. Throughout my years at Keystone, planning the cake and making a mess in my kitchen during October has been a highlight every year. I sincerely hope that the future students of Keystone continue to go overboard in their baking endeavors.
Leave a Comment
About the Contributor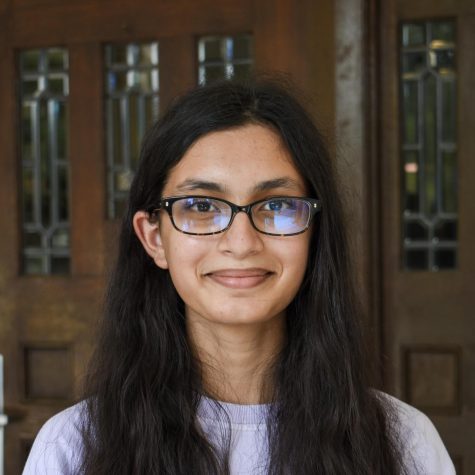 Aleena Ahmad, Editor-in-Chief
Aleena is the Editor-in-Chief of the Keynote and a senior at Keystone. She enjoys reading, writing, and baking in her spare time and looks forward to discussing...