Senior Spotlight: Stella and Quincy
This is probably the most difficult spotlight I have had to write this year. I say this because in a way, by writing this, I have to say goodbye to two of the most lively, wonderful, and sweet girls I have ever had the opportunity to meet and interact with. These two are incredibly friendly and caring as well as hilarious, and they really exemplify what it means to be a student at Keystone. They are involved in so much at our school from volleyball and basketball to theater and KeyCrew. Before they go off to better things, let's dive deep into what made their Keystone experience great, how they shaped the community around them, and how they've kept such a strong friendship all these years.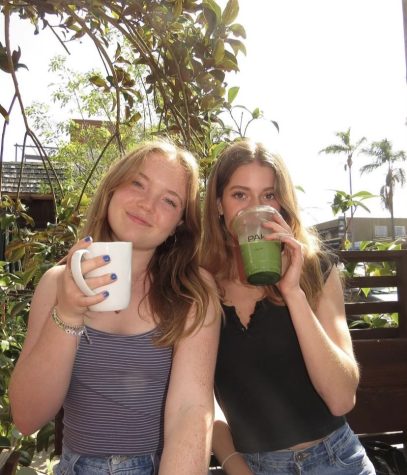 Quincy and Stella are both lifers at Keystone and have been friends since kindergarten, an incredible thirteen years. I asked them to share a few stories about their friendship, which was a slightly difficult question since they have spent so much time together over the years. Stella and Quincy both have influenced each other's fashion with both of them telling me stories about how one had an item of clothing (i.e. Stella's "wedged-converse" and Quincy's "Lululemon Scuba jacket") and the other decided to go buy it because of them. As Quincy says, "We like to justify each other's purchases, so if we're going shopping together and we're both buying something then it's okay." These two hold each other accountable and support each other even if they're buying "wedged-converse".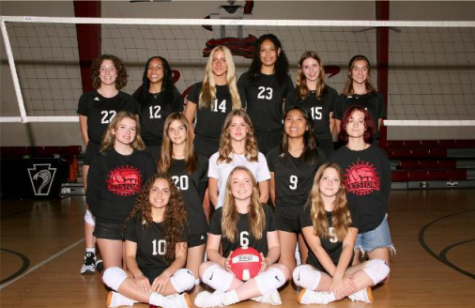 When I first decided to interview these two I knew I had to bring up volleyball. These two have been playing for Keystone's team forever (5th grade) and create a fun, competitive environment. Quincy is a setter, who leads the attack against the other team, and Stella is a libero, who is the roaming defender of the team. Watching the volleyball team play is a life-changing experience so if you haven't seen them play you are missing out. Sadly the season is over, so do support the team next year even if these two wonderful seniors will not be playing. Both of these girls were so modest and said they didn't do much and were just "on the court", but this contradicts how they play. They are both tough, hardworking, and put in so much effort out on the court, something that continues when they play basketball. Comically, their roles reverse from volleyball to basketball with Quincy being a defensive machine and Stella being what other basketball team member, Breleigh, likes to call a "shoota." Stella is a 3-point god and made several this past season and Quincy has shut down so many girls with her aggressive and slightly terrifying defense. I asked them which sport they preferred playing together- Quincy said volleyball and Stella said basketball. Quincy said volleyball because to her it's "more enjoyable" and she "personally just likes it better' while Stella said basketball because "I like watching Quincy defend" and also "Quincy and I get to talk about whatever on the basketball court and whenever and then do a play which is so fun." I had the opportunity to go to quite a few basketball games this last season and watching their dynamic is so enjoyable and hilarious, especially when Quincy is knocking down balls and throwing them cross-court to Stella.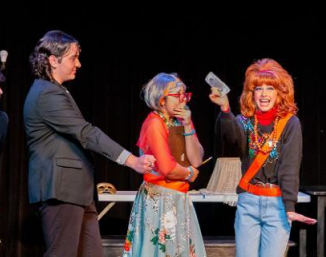 Aside from sports, both have been involved in Theater. Stella is a staple to Keystone theater and has been the leading lady in many plays. This past year she was Sandy in Grease and Dogberry in Much Ado About Nothing. Quincy has been a crew member for the past few shows and while she doesn't do much she still made the commitment to show up and do her job even while having homework, applications, and other things going on. True dedication to supporting her friends. Stella, on the other hand, is constantly cracking people up during rehearsal and backstage and pushing everyone to be better. She is so supportive in every play and always gives a thumbs up or a "good job" to everyone who passes her backstage. Aside from being an overall supportive member of the cast, she is also so talented and always gives 100% in every role. In Grease, she was a believable innocent and friendly girl compared to her role of Abigail Williams in The Crucible, who is cunning, deceitful, and pure mischief. I asked Stella the big question I'm sure everyone wants to know- What has been your favorite role to play? Surprisingly, Stella answered with Dogberry, her latest role. She said she had always wanted to be Sandy, but she had so much fun in the "experimental" role of Dogberry.
These two will surely go onto great things, but what do they have planned for the future? While neither of them are 100% sure what they want to pursue as a major in college, both have an idea of what they like to do. Stella wants to go into film acting or a subject in liberal arts or sociology, which I'm sure will be a success with her dedication, talent, and humor (I suggest getting an autograph while you can). Quincy wants to go into sociology or psychology or something where she can work for children. She says she's 90% sure she's going to go to Brandeis University in Boston. Both of them babysit and have such a good time doing it. They both love playing and interacting with children, which is evident from all of their lower school buddies that come up to them throughout the day. Occasionally, the duo will babysit together and Quincy is the "fun one" while Stella is the "sterner one". This cracked me up since I wouldn't have thought either of them would be a "bad cop type." Stella explains her "bad cop" side saying, "I can't stand kids who have never heard the word no. I just need to discipline them a little bit, but I still have fun with them when they're not being annoying." 
Quincy and Stella, both blonde, both hilarious, both wonderful. It's saddening to see them leave us and embark on a new adventure, but I know they will both amount to great things in the future and just keep growing in their friendship and individually. I am delighted to have been able to talk to these two and interact with them in class and extracurriculars as they are such life-changing, sweet people. While I do have to end this article here, I'm sure this won't be the last we hear from these two. 
Caden, Out. :3 
Leave a Comment
About the Contributor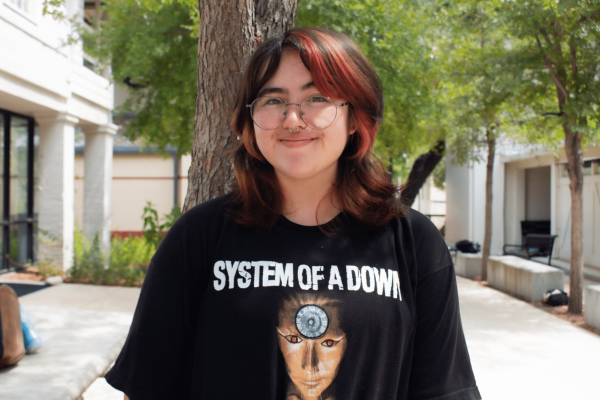 Caden Garza, Editor-in-Chief
One of the Editor in Chiefs of the Keynote, Caden is a Senior who enjoys the arts, music, and pop-culture. They are one of the co-presidents for Quizbowl,...