Play In A Day Videos!
Play in a Day is an annual Keystone tradition where the creative writing class has a few hours to write a play during the second half of the day and the theater class has a few hours to stage it before they show it off to everyone. Not one year has Play in a Day ceased to create laughter and spur up a conversation. So I recorded them at the request of some of the actors and at the request of some of those who missed the chance to see it live. Fret not, I have the whole performance of all three plays. This year, we had a somber, emotional story called "Redo" written by Hazel Spedding, a senior. The first play follows a girl who is trapped in hell re-watching the worst moment of her life. She constantly aims to fix it, but she cannot truly as she is dead. This short play tackles grief, loss, friendship, and priority. I thought it was very interesting.
Redo: Hazel Spedding
The second play is by Ava Nowicki and Julia Doski. This play was hilarious and ridiculous. It follows this group of friends who are playing truth or dare and call up a guy who one of the girls supposedly has a crush on. The guy ends up coming over and it turns out the girl doesn't have a crush on him… The play talks about queerness, relationships, lying, truth, and being who you are. I was astonished by the writing as I did not expect any of that to happen and I gasped seeing the ending.
Getting the Truth: Julia Doski and Ava Nowicki
The last play I sadly missed the name of but it was outlandish. The story followed a housecleaner and her boss, who she is in love with. The only problem is that he's dating someone- a fashion designer. The two women hate each other and fight over the man, but the man can only love one of them in the end. This play has physical comedy, fashion (?), yelling, and lots of conflict.
Aarav Gedala and Rashmi Basu's play:
Leave a Comment
About the Writer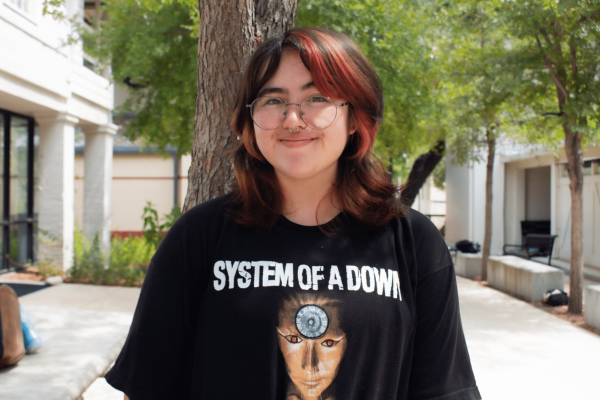 Caden Garza, Editor-in-Chief
One of the Editor in Chiefs of the Keynote, Caden is a Senior who enjoys the arts, music, and pop-culture. They are one of the co-presidents for Quizbowl,...