Behind the Stethoscope: Dr. Bathini
Behind the Stethoscope is a series where I interview doctors to learn more about their journey, specialty, and passions. A new interview with a different doctor is released with each edition of the Keynote. 
Every forty seconds, someone in the United States has a heart attack. Meanwhile, nearly half of all American adults are living with some form of heart disease—the number one killer of men and women in the United States. Cardiologists are doctors who specialize in caring for the heart and cardiovascular system, and their work is vital as the at-risk population continues to rise. While inpatient treatment for serious cardiovascular conditions such as heart attacks and strokes is lifesaving, the ultimate goal is to prevent heart disease from progressing to such a serious stage in the first place. The quality of life cardiologists can offer someone through prevention and management will always outweigh the quality of life they can offer after severe disease progression. For this month's interview, I talked to my mom, Dr. Bathini, to learn more about her love for outpatient cardiology and her journey to becoming a cardiologist.
What types of diseases do you help your patients manage?
I help them manage coronary artery disease, chest pain, high blood pressure, high cholesterol, shortness of breath, heart failure, arrhythmias, and palpitations. Most of these conditions are influenced by lifestyle choices, such as diet and exercise, but some diseases are genetic. 
Why did you fall in love with cardiology?
Patients actually get better after they have their diagnoses. I was thinking about being a pulmonary critical care doctor, but I realized that those patients are sicker, sometimes don't recover, and end up dying. Cardiology patients, for the most part, can recover and have a good quality of life. More generally, I love being a doctor because I get to connect with people. Over the years, I have learned that every patient has their own story. I was also inspired to make this career choice because my father is a non-invasive cardiologist, who is still practicing in Dayton, Ohio. 
What attracted you to outpatient settings?
For my cardiology fellowship, I worked at Tulane University where I saw heart failure and transplant patients. I took care of these really sick patients, some of whom had left ventricular assist devices (LVADs), balloon pumps, or life-threatening cardiac arrhythmias. These chronically ill patients were more sick and more likely to die, which took a heavy emotional toll on me. I learned that I really enjoyed outpatient settings when I worked at the Veterans Affairs Clinic, while my co-fellows were more attracted to performing procedures in the hospital. I like the outpatient setting where people come more for prevention, diagnosis, management, and treatment. My focus is educating, preventing, and getting people better. Also, the outpatient setting isn't as fast paced as the hospital. 
What kind of patients do you see at University Hospital in the outpatient clinic?
At University Hospital, I see a huge diversity of patients—culturally, linguistically, racially, and socioeconomically. Many of my patients use CareLink, which is a financial assistance program that makes healthcare at University Health more affordable to Bexar County residents. The sheer number of languages we encounter is a testament to the diverse community we serve. It is common for us to call interpreters on iPads to communicate with patients if they don't speak English. Some of the top languages I encounter are Spanish, Pashto (especially among Afghan refugees), Vietnamese, Arabic, French, and Hindi. As a daughter of immigrant parents, I understand how difficult it may be for patients to navigate the healthcare system with language and cultural barriers.
Did you experience any discrimination in your medical training?
Cardiology is known to be a male-dominated field. When I was doing my cath lab rotations, where we do procedures to look into people's coronary arteries, the attendings, or doctors teaching me, were all male and didn't have patience for any of the female fellows training in cardiology. Due to this, I didn't develop a strong skill set in performing procedures, so I became a non-invasive cardiologist, reading echos and nuclear stress tests. Plus, I didn't like the bloody, invasive aspect of catheterization procedures. 
How difficult was it to start a family during your career? 
My first job in San Antonio was in a male-dominated cardiologist group, and I was on call every weekday and every other weekend. On my weekend calls, I went to seven hospitals, rounding on patients, supervising stress tests, and performing transesophageal echoes. I would be gone from early in the morning and come home around ten in the night, working around fourteen-hour days. I ended up having premature labor with my first child because I was running around, working these long hours while pregnant. I eventually had to go on bedrest for five weeks, during which I was hospitalized for two weeks. 
What are some cases during your fellowship years that were really memorable for you?
I remember one call night in particular when I saw two young men squirming on their hospital beds. They both had aortic dissections, a tear in their aortic artery, which is life-threatening because they can bleed to death. It was important that they get CAT scans, so I ordered them stat. Then, I had to relay that information to my cardiology attending, who was at home, and get the surgeon informed ASAP. I was terrified because I knew that we were racing against the clock and that they could die.
Another memorable moment during my fellowship was when I had the privilege out of all of my colleagues to go to Arkansas to procure a heart with the transplant surgeon on a private plane. I was able to then come back and watch the heart transplant in the operating room. The patient did really well and recovered. 
How many times have you restarted a heart? 
Between my internal medicine residency and cardiology fellowship, which are both three years, I restarted hearts multiple times, whether I was on call or I was on the code team. I honestly don't remember the exact number. 
What is your favorite part about your job?
I like talking to patients and trying to understand their symptoms to diagnose what is going on with them and manage and treat them appropriately. I love how most serious conditions can be prevented, and if I do my job well, most of my patients' conditions do not progress to the point that they have to go to the hospital. A lot of things can be prevented or at least checked out before something serious happens. 
Listening to my mom, I was shocked by the sexism that dissuaded her from pursuing interventional cardiology. It led me to wonder: how many other female doctors must have been turned away from specialties based on sex rather than talent? How much talent and advancement have we lost by edging well-qualified women out of certain medical specialties?
After our interview, I scrambled to the Internet to understand the extent of this issue. The results were sobering. While slightly more than 50% of all medical school graduates are female, they consist of less than 13% percent of cardiologists and 4.5% of interventional cardiologists. The long and unpredictable hours in cardiology are certainly discouraging to female doctors who want to raise a family, but the tenuous work schedule does not account for such a gaping gender disparity. Many medical specialties with similar work schedules do not share the same gender imbalance, such as obstetrics in which women comprise the majority. Surveys have consistently found that female doctors are deterred from entering cardiology because they view the field as an "old boys' club," and my mom's experience illustrates that this culture is widely known and tolerated. This must change. The underrepresentation of women in cardiology deprives the field of unique perspectives that strengthen patient care, especially when about half of the patient population is female. We need more female cardiologists! 
I hope you enjoyed this edition of Behind the Stethoscope. For the December Edition of the Keynote, I will interview bariatric surgeon Dr. Jay to learn more about his training as a surgeon, how he dramatically changes his patients' lives, and his compassionate approach to patient care. 
If you want to learn more about the underrepresentation of women in cardiology, below are a few sources to get you started:
How do we attract and retain women in cardiology?
Sex Differences in the Pursuit of Interventional Cardiology as a Subspecialty Among Cardiovascular Fellows-in-Training 
Why are so few interventional cardiologists women? A new study offers a few clues
Leave a Comment
About the Contributor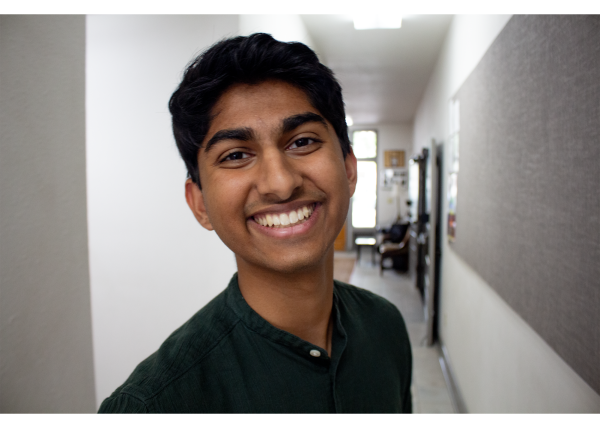 Niraj Srivastava, Editor-in-Chief



Niraj is a current Senior at Keystone who is interested in spreading awareness about health issues and inequality through his writing. He is fascinated...