Dear Reader Letter 8
Hi, everyone! Welcome to our final edition of the Keynote!
Throughout the past year, the Keynote has explored and grown in many awesome ways. From the collaborations with Cobra Radio to the Equal Justice Initiative and Family Violence Protection Service guest presenters to the "Keycards" collectible card games, I was honored to be joined by amazing people all around to explore the extents of the Keynote. And, in the hands of Aleena and Lorenzo, I know the Keynote will continue to expand and evolve in new and exciting ways. (Notice a shift in the Keynote interface? That's them!)
And so, before parting, there are several people I would like to thank. First, I would like to extend a huge thank you to all the seniors on the staff. A few days ago, the Keynote celebrated the seniors with a crossword and slideshow, and below is the crossword if you would like to give it a go.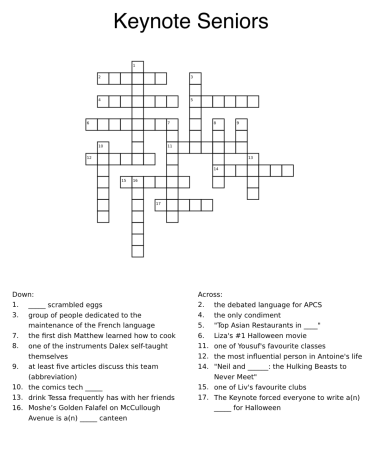 Next, thank you so, so, so much, Mrs. Hall! This year was Mrs. Hall's and my first year running the Keynote after the small transition period from last year. Thank you, Mrs. Hall, for the early mornings running through updates and for allowing me to use your room for Keynote meetings. Thank you for running with every insane idea proposed by the Keynote staff and helping vitalize those ideas. Throughout this past year, you have been a monumental teacher and mentor in my life, and I can't thank you more.
Additionally, I would like to extend a massive thanks to Mr. Tijerina for bringing Cobra Radio to life and allowing the Keynote to collaborate. Under his guidance, the Keynote staff learned how to interview students, edit interviews, and bring a podcast to life. Thank you so, so much for everything.
Furthermore, thank you, Keynote staff and editors, for bringing the Keynote to life and sustaining the publication. From Niraj's medical interviews to Liza's lyrical analyses, the Keynote brought new and exciting content for students and readers worldwide to enjoy. Specifically, thank you, Aleena and Lorenzo. First quarter, Aleena was instrumental in the Keynote editions. Her calm, steadfast, and forward-thinking demeanor was contagious and helped me stay grounded during the chaos of Keynote editions. Thank you, Aleena, for being an amazing partner during the releases. Throughout the editor meetings, Lorenzo consistently brought enthusiasm and ambition that both aided the Keynote's expansion and will help the Keynote push towards the frontier next year. I cannot wait to see where the publication expands to next year under both of their supervision.
Finally, I would like to thank you all, the readers, for enjoying the articles and supporting our publication. This year, the Keynote hit over 3k views in a month, a record-breaking count for us. This would not have been possible without you all, so thank you so, so much.
I would like to end this letter—my final letter to the Keynote audience—with one of the scariest but one of my most favorite words in existence.
Adieu.