Senior Spotlight — Shreya Chaudhary
Across many years, Shreya's always been one of the smartest people I've known. Between her efforts with the Keystone Robotics Club (titled Reaching for the Skynet), her multiple award-winning Science Fair projects, and her work to make computer science education more accessible, it's clear that Shreya's love of science has taken her far. I've heard her excitedly explain a project of multi-level-models with learning algorithms, try to estimate the value of Pi using paper clips, and describe the various uses of computer science and AI, and though it may have gone over my head, it was always a pleasure to hear from someone so passionate about STEM.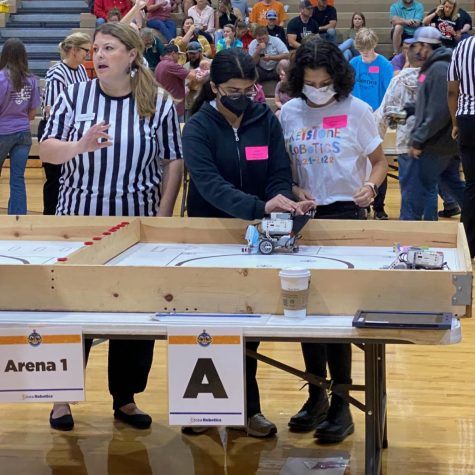 Since she was a child, Shreya knew she loved STEM. Though it's difficult to pinpoint where it all began, a show titled NUMB3RS she watched in middle school where mathematicians would help solve FBI cases certainly helped. In middle school, she also joined the Lego Robotics club with the older students. In seventh grade, she was in an all-girl team with Elle and Tessa, and they took home first place in their competition, and first the year after that. During those competitions, they prided themselves on being "strategists," being creative to find loopholes. "The running joke is that they probably banned tape because of us," she told me. They had put so much tape on their robots that the Legos themselves were hardly visible. Though the earlier Lego robotics competitions were largely strategy-based, considering all teams had the same resources, the high school FRC (FIRST Robotics Competition) team had to create their own, higher-level robotics program. Although there were a few difficulties after she and a few others founded the team, they were able to make connections in the first couple of years and develop their skills. Though the competition in 2020 was canceled due to the pandemic, the virtual competition in 2021 resulted in two awards for RfS. This included the Team Spirit award, given to the team because of their eagerness to reach out to other groups during the competition.
Outside of robotics, Shreya also started a nonprofit organization in her sophomore and junior years, where she worked to make computer science education more accessible to younger students. Over the summer, she teaches classes for free on various topics that students find engaging—for example, building meme bots, teaching AR/VR, and more. Her goal was to draw in young children in topics that they would be interested in to open up the wide world of computer science to them.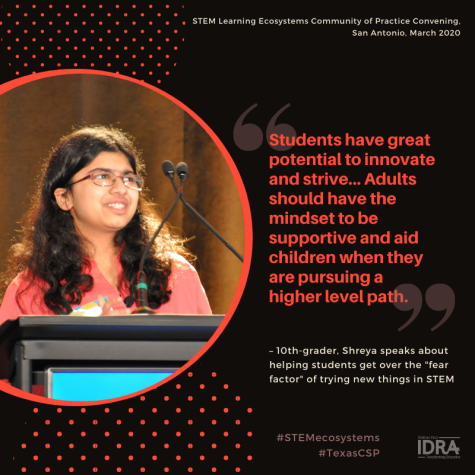 Shreya's also known for her incredible Science Fair projects, even going to ISEF (International Science and Engineering Fair) in her junior year. Her favorite project was from her sophomore year, where she created a multi-level model with learning algorithms programmed to map drones to put out fires. Winning 5th in category, she loved the complexity of the project. In her junior year, the year she went to ISEF, she created an algorithm to predict the survival of prostate cancer patients, which would allow them to get more accurate treatment. However, the competitions that year were virtual, and the international fair was canceled. On the other hand, this most recent fair saw Shreya winning 1st place in category at the state fair. This year, the competitions were back in person, and she looked at gene expression and the correlation with cancer types. In her final year, it was great getting to walk around and listen to everyone's projects.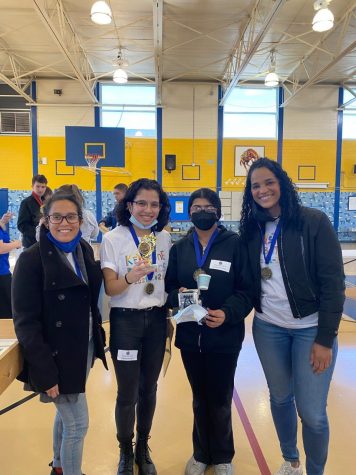 Outside of STEM, Shreya has also been the Keystone Keynote's incredible Editor-in-Chief for the past two years. She was originally recruited as a blogger in her sophomore year by Derek Wong. At first, she wasn't particularly confident in her writing or editing skills, but she improved with the support and feedback from the group. In her junior year, after debating between two positions, Shreya decided to apply to be the Junior Editor-in-Chief, where she would go on to recruit more people to the Keynote and expand the club. She started multiple new series and initiatives. Though not all stuck, her efforts for the podcast and others have created a lasting impact on the club. With the Keynote, she could write consistently for fun. Her most successful series, titled My Story, was also her favorite to write, and it went over big moments from her life and her takeaways.
In addition to the Keynote, Shreya's also been involved with various other clubs at Keystone through her high school years, including Science Bowl, LitMag, and more. Each of them helped her with community building and were also simply a source of enjoyment for her. Outside of Keystone-related activities, Shreya also has a hobby of programming, though has also been branching out to search for new hobbies. Various new interests she's tried include drawing comics, reading a book per day over the holiday breaks, Sudoku, and reading interesting news articles.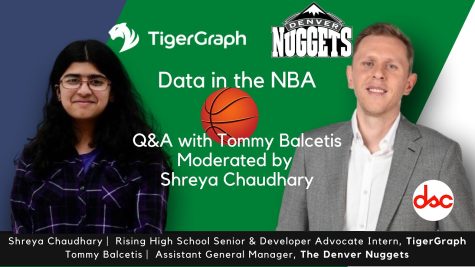 As Shreya's high school career comes to a close, I'm positive that she will go on to bring joy into the lives of everyone that she meets in college, just as she's done for me. Committed to MIT, she hopes to major in computer science/engineering and a second subject, possibly business. Whatever path she decides to take, I know that she'll excel and be an inspiration to those around her.