Student Spotlight — Matthew Stagg
From astronomy presentations of planets and butterfly metamorphosis labs in Mrs. Lavelle's and Mrs. Carpenter's class to starfish and shark dissections in Mr. Howk's class, from the old playground with six swings to the new playground with four swings, from small five-year-old strangers to adult eighteen-year-old friends, Matthew Stagg's and my lives have been intertwined for over thirteen years, joining Keystone in kindergarten but knowing each other prior in Kumon. Together, we studied through lower, middle, and high school, performing in the lower school plays about learning grammar with dinosaurs and taking a family vacation to Mars, adventuring in our first overnight school trips in middle school, and now chatting with each other daily about whatever interests us in a Discord server. Throughout our years of learning together and hearing their story, Matthew has developed a strong passion for biology, a love for cultures, and a strong sense of helping the community around them.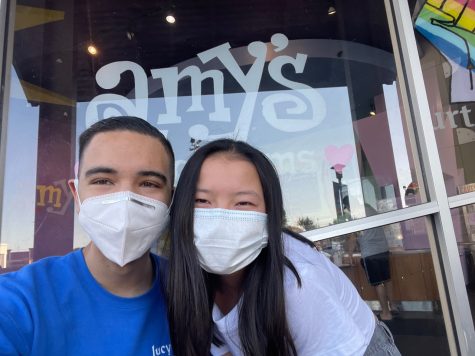 On campus, Matthew is the former President of Quiz Bowl, now having passed the torch for next year, the Spanish Vice President of World Langauge Club (WLC), and a participant in Science Fair, Science Bowl, and Robotics. As the president of Quiz Bowl, Matthew organizes meetings every Friday morning to run through trivia question sets; their favorite topics to answer are history, science, and pop culture. What they love most about quiz bowl is the ability to constantly learn and enjoy answering trivia questions with their friends, as the excitement is always contagious. Matthew is constantly blown away at the random areas of history they learn and how some people are deeply knowledgeable and passionate about certain niches. All of their hard work amounted to winning third place in a nationwide quiz bowl competition, and Matthew looks forward to continuing quiz bowl at a collegiate level. Another trivia-style game Matthew enjoys is science bowl, where they meet online with their team to ask practice problems. They especially enjoy hanging out with their friends and nerding out about topics everyone enjoys. To help foster the science bowl community, Matthew created a Discord server, lovingly called the "The Super Cool Science Bowl of Rice Team." In the server, a Discord bot delivers regular science news from various publications, the members study together and listen to music competitively, and everyone shares STEM facts that fascinate them in the #info-dumps channel. One tradition Matthew is particularly fond of is changing nicknames with a cool science fact. For example, when I interviewed Matthew, their nickname was TRPV-1, a receptor protein that may play a role in taste. As of the publication of this article, their nickname is "adeno-associated virus," a leading platform for therapeutic drug delivery. Now that the science bowl season has come to a close, the Discord server now acts as a general STEM interest group. 
Another passion of Matthew's is culture. As the Spanish Vice President of WLC, Matthew organized one of the club's first events: making empanadas. Matthew reflects on fond memories of learning how to cook empanadas with their mother and decided that it was a perfect way to begin the year. They fondly reflected on getting a big container of masa flour with their mother, bringing the filling to school and helping everyone create and fold the empanadas, frying the empanadas at home, and finally bringing them back to the school to enjoy with the club. Having joined the club in freshman year, some of Matthew's favorite traditions include volunteering at the Battered Women's Shelter and in park cleanups and teaching the kindergarteners Spanish and French. Matthew reflected on going to the kindergarten classrooms and walking the children through small booklets with words. While teaching the words, sometimes the students would excitedly share how to say certain words in the language they speak at home. Matthew especially loved this because they enjoy learning about the different cultures around them.
Matthew's interest in customs originates from having two cultures in their household: their mother is Colombian and their father is African American. When they were younger, they felt as though they had to "choose" an option. However, as they aged, they learned that they could embrace both cultures. While exploring the Colombian and Cajun cultures, they realized there were ample similarities: both traditions came together around food and had notable music and dancing events. Matthew finally decided they could join both communities and appreciate the differences. Similarly, Matthew enjoys embracing other cultures with their friends, such as when they and their friend Elle went to a hotpot together.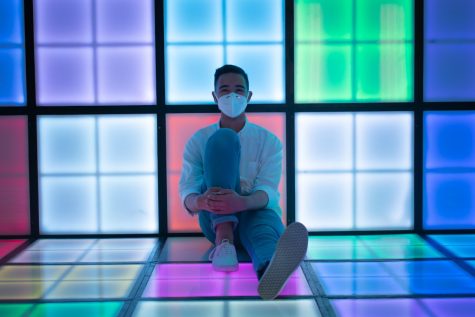 Another way Matthew embraces different cultures is through traveling and cooking and tasting different foods. One of their favorite trips was visiting England. Along with the plethora of history, they fondly recalled visiting Stonehenge one rainy day with an archaeologist and getting to see the monument up close. As they were leaving, the rain cleared, revealing a rainbow right behind the Stonehedge, one of Matthew's most memorable moments. In the future, their dream trip would be to explore Latin America and visit all of the different cultures in the region. Matthew explained how every Latin American culture is slightly different, which can be attributed in part due to geographical differences. This translates into their cultures, traditions, and cuisine. In fact, Matthew's interest in cooking sparked from their cultural interest. At first, they learned how to bake and then began cooking, starting with empanadas. They especially love cooking and bonding with their mother as they explore cooking various cultural dishes. They have a big recipe book that is over thirty years old with recipes and handwritten notes scribbled in Spanish in the margins. Matthew's advice for anyone interested in cooking is to stay calm when a dish seems to come out wrong; instead, focus on what can be changed, and by identifying the small errors, the dish can likely be saved.
In addition to their interest in culture, Matthew plans to pursue a career in STEM, specifically biomedical engineering. At first, Matthew was hesitant in their science skills but eventually decided to join science fair in his sophomore year. With Mr. Nydegger's guidance, Matthew was able to conduct their first science fair project, exploring ways to reduce the immune response to help those suffering from autoimmune diseases. When crafting this project, they aspired to help their grandmother who has rheumatoid arthritis. Eventually, Matthew was able to overcome their self-doubt and gained confidence in their skills. The next year, Matthew began working on finding how to reduce the costs of detecting Alzheimer's. With this project, Matthew drew inspiration from volunteering with the Democratic Socialists of America (DSA) where they helped with mutual aid distribution for the homeless. While volunteering, they noticed that those with lower income lacked access to healthcare, and this led to them suffering from many preventable illnesses. For Alzheimer's, the current methods of detection are expensive and can cause people to lose days of work due to recovery. Therefore, Matthew looked at methods of testing salivary glands for early detection of Alzheimer's and looked at specific protein ratios. Overall, they wanted to help people in the community to make Alzheimer's detection affordable and accessible. Finally, Matthew is currently helping a research group virtually.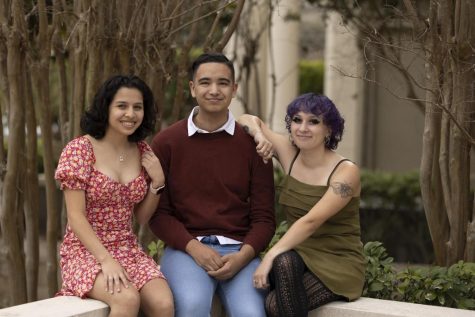 Beyond research, Matthew also helped fellow senior Tessa Uviedo with the Leukemia and Lymphoma Society (LLS) Student of the Year program. The program was aimed to help raise funds for cancer research. Together with the team, they worked to reach out to contacts and businesses, competing with teams around San Antonio to raise the most money. For example, the 2021 Valentine's Day funds went to funding the research. Additionally, the team hosted an event at Willy's, where customers could donate some money to their cause with every meal. Overall, the team was able to raise around fifteen to sixteen thousand dollars to help cancer research. Supporting the program helped further solidify Matthew's interest in biology. Furthermore, while exploring biology, Matthew took virtual college courses at Harvard over the summer. One of their favorite classes was the foundations of neuroscience where they learned about the brain and how it operated both chemically and physiologically. Specifically, learning how touch and vision worked fascinated Matthew.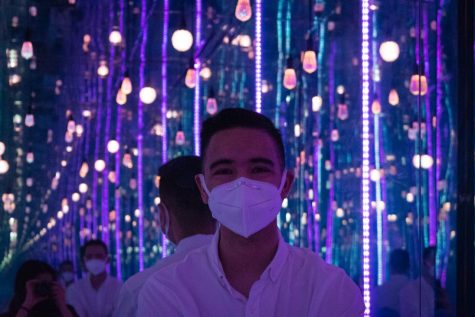 Originating from all of their experiences, Matthew is planning to major in biological engineering or neural engineering. They are currently committed to the Massachusetts Institute of Technology (MIT), deciding to go to the college due to its collaborative nature, having several of the best parts of Keystone in a STEM-focused environment. As a lifer, one of their favorite aspects of Keystone is the teachers who are willing to answer questions and encourage them. They fondly remember Mr. Howk's class and his passionate lectures on evolution. Matthew hopes to find more professors passionate about their work at MIT.
Recently, Matthew went to MIT's Campus Preview Week (CPW) and fell in love with the culture. They had a host with similar interests as them and got to join a class called "Fields, Forces, and Flow of Biological Systems," where the professor taught how to weigh viruses by shaking them. They loved how the professor was able to connect the abstract concepts to real-world applications similar to Keystone teachers. Furthermore, they loved how the students were humble, down-to-earth, and collaborative. At CPW, Matthew visited MIT's biomakerspace, a student-run lab where students can propose projects and work with a team to execute them. 
At MIT, Matthew plans to major in course 20 (biological engineering) and minor in 21-G (Spanish). They are honored to have the opportunity to go to college, as their father was the first to go to college in their family and their mother did not get the opportunity to go. Therefore, by pursuing their dreams at MIT, Matthew hopes to help their mother fulfill her goals through him. They are currently uncertain about what route they will take after college but are considering possibly getting a Ph.D. or becoming a doctor.
As Matthew leaves Keystone after thirteen years of school, they will be sure to miss Mr. Howk's passionate lectures with pop culture references, language day, and the many class trips. However, Matthews plans to take Keystone traditions with them. After nostalgically reminiscing class trip memories like stargazing, Mr. Nydegger explaining thermophilic bacteria on the bus at Yellowstone, and talking about Spanish with the guide at Yosemite, Matthew confidently plans to continue visiting national parks with their friends after Keystone, exploring the wilderness and making new memories with their current friends and friends they will make in the future.
After over thirteen years spent together in school, I look forward to continuing my education with Matthew. I have loved the time we have spent together, from learning about mastocytosis and mast cell degranulation to trying to dissect abstracts on human cytomegalovirus (CMV) infections. When spending time with Matthew, they seem to always have some fascinating topic to talk about, and they are curious and insightful on every topic. Their curiosity and resilience are skills that will help them wherever life takes them. When asked what advice they have for Keystone students, Matthew advises to never be afraid of trying new things and putting yourself out there and never being afraid to ask for help. With this mentality, as Matthew pursues biological engineering at MIT, I am certain they will thrive and make groundbreaking discoveries.