Dallas Cowboys Season Recap
There was a lot of hope for this season for the Cowboys. The return of Dak Prescott was promising, and a six-game win streak after the close loss season opener at Tampa Bay was extremely exciting for fans. However, the season took a decided turn for the worse in Week Eight with a 30-16 loss against the Denver Broncos, in which Dallas went the first three quarters without scoring. A trend emerged: an excellent defense would have to bail out an inconsistent and disappointing offense—a historically unusual situation for the Cowboys. 
The Broncos game started a slump, with Dallas losing two out of the next three games. They were unable to score a single touchdown against the Chiefs. On Thanksgiving Day, a close game against the Raiders was lost 36-33 in overtime because of a pass interference penalty. Penalties were quite a problem for the Cowboys this season, as they ended up being the most penalized team in the NFL. The final loss of the season was 25-22 against the Arizona Cardinals. There was a controversial no-call of a fumble that the Cowboys were unable to challenge due to lacking timeouts, but the fact is that the Cowboys simply did not play well enough to win that game, regardless of bad luck with officiating.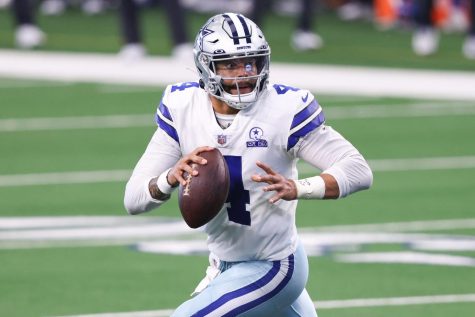 The season ended in the first round of the playoffs against the San Francisco 49ers, which aired on Nickelodeon. The Cowboys again played disappointingly, scoring only once in the first three quarters. At the end, there was some controversy because an umpire ran in the way to spot the football, causing the time to run out. No time was added to the clock, and just like that the season was over. There is something to be said for criticisms that Prescott should not have run up the middle with only fourteen seconds left and no timeouts; however, the referee can be criticized for his interference with the game through being too far away. Regardless, it was a sad way to end the season. Due to his frustration, Prescott was fined $25,000 for saying what most football fans have thought at one point.
Even though the season did not live up to what many hoped, it was still welcome after last year, where Prescott's brutal ankle injury led to the team going only 6-10. This year, they clinched the NFC East and had the most wins in a season since 2016.