Student Spotlight — Liv Lanford
Throughout the week of hiking, watching salmon, and more in the freshman year school trip at Olympic National Park, I recall Liv perhaps being the most enthusiastic for the microscope lab. After the group left, Liv, fellow senior Elizabeth, and I stayed back with our camp counselor to continue our observations with the microscopes on the top floor of a camp building, no more than five minutes away from our cabin. There, Liv enthusiastically put anything and everything underneath the microscope—leaves, preserved insects, water. Naturally, while adjusting microscopes and ranting about ethical science, I had my first real interaction with the curious, science-loving to-be class president, Liv Lanford.
Throughout her four years at Keystone, Liv has been representing and leading our grade, actively involved in student government. At Olympic National Park, when we first elected class representatives, she was elected as one of the three Student Council representatives. Having just moved from Smithson Valley Middle School, her Student Council experience was completely different: Smithson Valley's student council was a huge club with hundreds of students whereas Keystone had three class representatives and various club representatives. While collaborating with students from all of high school through Student Council, Liv especially enjoyed working on the behind-the-scenes aspect of the Keystone community events—spaghetti lunch, game night, and more. Already in freshman year, Liv actively contributed to Keystone events and her love for fostering the Keystone community led her to get elected for class vice president in sophomore year. 
Junior year, however, was the most critical time for class officers, as juniors traditionally plan prom and the Valentine's Day fundraiser. However, despite our junior year falling in the midst of the pandemic, Liv rose to the challenge of running these events, sharing her ideas with the class as she ran for president. 
Needless to say, she was elected.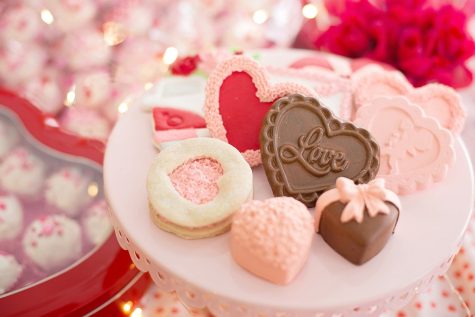 Throughout her junior year, Liv revolutionized the Valentine's Day fundraiser through Zoom, combining everyone's ideas with hers. To support and promote cancer research through the pandemic, all of the money raised from Valentine's Day was donated to the Leukemia and Lymphoma Society (LLS). The Valentine's Day gifts were virtual as cards and entertainment grams (juniors doing challenges). Even the registration was virtual for students to select what items they wanted to give to other students. Liv described the entire event as stressful but ultimately rewarding. She recalled the entirety of planning during the pandemic, having dozens of tabs open on her screen, and constantly communicating with students and teachers. Reflecting on her most surreal moment, she recounted how she stayed up till 4:00 a.m. working on a YouTube video with her providing an overview of the new Valentine's day format. After finally sleeping for a few hours, she soon woke up to a call from Mr. Spedding, requesting a few revisions of the video. 
Not only is Liv actively involved in class government, but she participates in several other clubs and activities inside and outside of school. Outside of school, she loves to read, is an avid anime fan, and boxes with her father. Inside of school, one of her favorite clubs is LitMag, which she actively participated in freshman and sophomore year, and she cites Stone Soul as one of her favorite activities. In addition, she competed in a debate tournament, winning 1st place with senior Jack and participating in competitive science fair with senior Veda. 
Interested in pre-med, in their science fair, Liv and Veda looked at the effects of a certain medication. They received help from a kidney researcher at UTSA, allowing them to use his laboratory and aiding them with difficult parts of their procedure. 
As Liv's senior year comes to an end, she looks forward to the new opportunities and communities she will find in college. She plans to go pre-med, majoring in biology or neuroscience, and monitoring in computer science of business. She also hopes to continue conducting research—in epidemiology or medicine—throughout college, and after college, she hopes to teach as a college professor. Her advice to Keystone high school students is to never fear failure but learn from it. "Naturally smart" doesn't exist, so improving and moving forward through high school requires effort and the ability to learn from failure. 
When spending time with Liv, her affable nature makes it easy to passionately share topics with her. As Liv departs from Keystone, I'm going to miss our random science discussions—whether it's in the microscope lab in Olympic National Park or while interviewing her. She has been a phenomenal class president and an integral part of the Keystone community, and I am certain that whatever college she goes to, she will shine while bringing students together to make the world a better place.