The Art of Making a Pizza 
First things first, I am no pizza-making prodigy—just a lover of pizza. Since I was young, pizza has been a big part of my family; for any given occasion, if there was no planned food, we could always resort to a pizza for parties, busy Friday nights, or just because we had no dinner planned. 
I made my first pizza at age seven. Well, I added toppings onto a frozen pizza. After a mess of toppings—including raisins and cheese—it took my family another seven years to muster up the confidence to make another pizza. 
We have a family friend with an authentic pizza oven, created in the 1990s, that can make a perfect pizza in a matter of minutes. While our kitchen oven is no authentic pizza oven, my family decided to attempt making some homemade pizzas. To start it off, we needed to get a pizza stone, an iron slab that goes inside the oven while it's preheating, and a pizza peel, a paddle to transfer a pizza onto the pizza stone. Our pizza dough was Trader Joe's Garlic and Herb Pizza Dough, and we gathered our favorite toppings: cheese, pepperoni, peppers, onion, and olives. 
For our first pizza, we decided to make the classic supreme pizza. We started by flouring both the pizza peel and the pizza stone. Then, after placing the pizza stone in the oven, we preheated the oven to 500℉—our first mistake. The pizza stone was a little too hot, the bottom crust got slightly burnt. Mistake number two inevitably came: we didn't put enough flour on the pizza peel, so when we tried to transfer it onto the pizza stone, it would not budge. After prying the pizza off the peel with a spatula, it was finally set in the oven for fifteen minutes. We realized mistake number three after the fifteen minutes of waiting: we had not rolled the dough thin enough so our crust was too thick. While it had a rather strange un-pizza-like appearance, it had an incredible taste—full of flavor.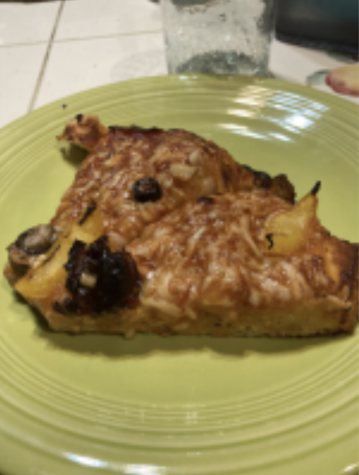 Our second pizza was a family favorite: a prosciutto and arugula pizza. For this one, instead of just winging it, I pulled up some instructions for how to make a pizza in a kitchen oven. To start off, I lowered the temperature down to 450 ℉, learning from our previous mistakes. I also decided to oil the pizza peel and then put flour on top, making a much smoother transition from peel to stone, and put the pizza dough in the oven for six minutes without any toppings—hoping for a much less soggy crust. 
Unfortunately, without the topping to flatten out the puffy crust, the pizza inflated, making it challenging to add the additional toppings. I brushed the pizza with an olive oil and garlic mixture on the crust and added cheese, placing it back in the oven for another six minutes. While the pizza was baking, I prepared the arugula, seasoning it with salt, pepper, lemon juice, and balsamic vinegar. Once the pizza had been thoroughly cooked, I added the arugula and prosciutto. While not perfect, this pizza looked more like a giant flatbread but was definitely an improvement from the first pizza. Making these taught me what to account for when making another pizza: for one, be sure to put a handful of flour onto both the pizza peel and stone if you don't want sticking, and make sure to put the temperature not too high so the pizza crust doesn't burn.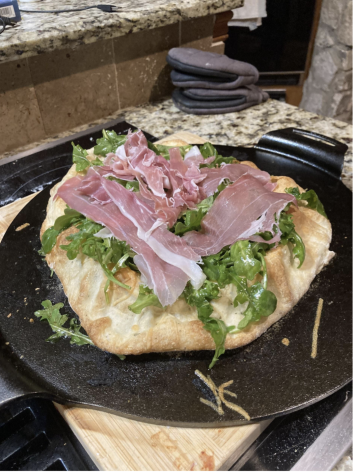 Still, I am no master at making pizza, but it was fun to create, brought my whole family together, and had a delicious award.