Student Spotlight — Kaitlin Albarran
Humble, sweet, kind, caring — these are the words that come to mind when I think of Kaitlin. Whether she's baking treats to deliver to her friends during the holidays, organizing Among Us game nights for the Senior Class, or simply running to give hugs in the mornings before first period, Kaitlin constantly exudes a sense of warmth and love. Kaitlin's ability to bring a smile to each and every person in the room makes her an integral part of the Class of 2021 family; we would not be the same without Kaitlin's warmth and kindness. Although our time at Keystone is coming to an end, I will always cherish the memories we built throughout our six years together.
When entering the Keystone family in sixth grade, Kaitlin reflects upon the friendliness of the community from both the school's students and faculty: "once the initial shock of moving to a new school wore off, it was really awesome because I felt like I had a new family," Kaitlin added. She describes the challenge and academic rigor of Keystone as an aspect that caused her to grow and mature as a student. However, what truly helped her find her comfort zone was her friends. 
As a high school senior, Kaitlin has spent the last four years participating in a variety of clubs. In addition to holding the position of Vice President of her class, Kaitlin was a Student Council Representative through both Model United Nations and National Honors Society, Vice President of Model United Nations, and French Vice President of the Foreign Language Club. Kaitlin has also participated in Academic WorldQuest, Science Bowl, the Keynote Newspaper, Basketball, Softball, Theatre, and Lower School Connects. In addition to clubs, Kaitlin has greatly enjoyed her classes at Keystone — specifically AP European History with Dr. Caraway and Physics with Mr. Stancek. "AP Euro and Physics were both classes where I learned how to learn," Kaitlin reflected. She learned through those classes that not everything is going to be easy. To do well, one must work. However, Kaitlin has always been a fan of history, and AP Euro with Dr. Caraway introduced her to history at a new depth. When asked whom from history she would like to have dinner with, Kaitlin responded with Otto von Bismarck: "Like Dr. Caraway said, it is really hard to get into dead people's heads. I just want to understand the thought process behind Bismarck's unification of Germany. He must be crazy determined. What drives him? How does he stay so motivated?"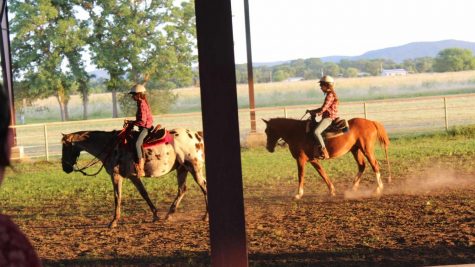 Before the pandemic, Kaitlin spent time volunteering with her Girl Scout Troop and attending Camp La Jita. In the summers and winters, Kaitlin would spend most of her time caring for the horses at the camp. "In the summer I would go out for four weeks at a time and help in the barn," Kaitlin said, adding "winter too — I would teach about horse anatomy, breeds, saddling, bridling, and just riding in general." Kaitlin has been involved in Girl Scouts for the past eleven years, and she attributes her experience with the horses at Camp La Jita and volunteer work with her troop to much of her personal growth outside of school. 
This summer, however, Kaitlin will be attending a fully-government funded trip to Seoul, South Korea for seven weeks through the National Security Youth Language Initiative (NSYLI). Here she will learn and study the Korean language intensively for five hours a day, while immersing herself in the beauty of Korean culture through cultural exchange activities. "I am really excited about it because I have always wanted to go to Korea," Kaitlin said, adding "not just because of K-Pop. I really like the language and the culture. I think it's very unique." Kaitlin describes Korean as one of those languages where one can see the historical influence on the components, especially in the use of honorifics. "I am really, really excited," Kaitlin concluded.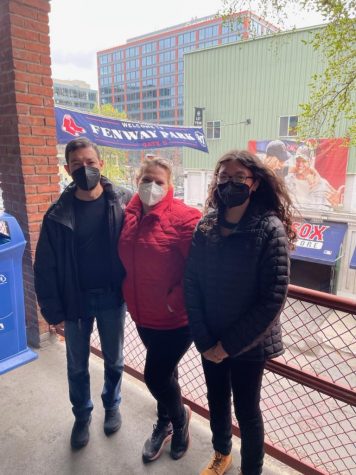 When asked who has had the biggest influence on her, Kaitlin responded with her parents. "They have made a lot of sacrifices to allow me to be where I am. I really appreciate that and love them for it," Kaitlin reflected. However, she also added that her friends at Keystone have also had a great influence on who she is today: "I love you guys so much, and I feel like I have learned an immeasurable amount by talking to you guys and being able to be your friends. You all have taught me things that I never knew."  
Kaitlin cites her favorite aspect about Keystone is the sense of community that comes from the small, tight-knit student body. "We are all like a family," Kaitlin said, "I couldn't wish for anything better." Spending the last six years growing at Keystone, Kaitlin believes her biggest accomplishment is being there for her friends when they need it: "I always try my best to make sure that if someone needs something, I am there as quickly as possible." 
Prior to attending Keystone, Kaitlin was very nervous about speaking up in class. The last six years at Keystone has transformed her into a student who is unafraid to speak up, ask questions, and share her opinions. The family-like quality of the Keystone community has also taught Kaitlin how to care for her friends and those around her. As her time at Keystone draws to a close, Kaitlin would like to advise future high schoolers to talk and connect with everyone and anyone. "It will be scary, but you just have to put yourself out there. Know that everyone is going through the same thing," Kaitlin advises. She emphasizes that you will never learn about people, their aspirations, what they aspire to do in life unless you reach out to them!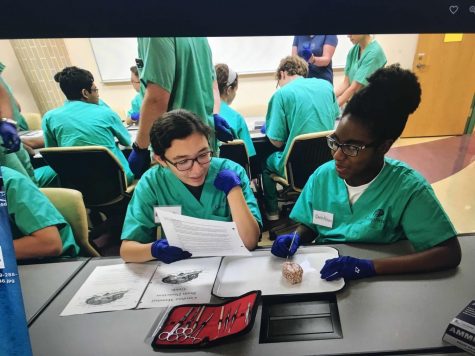 In the future, Kaitlin hopes to have a fulfilling career that helps and improves the world around her. She is leaning towards a career in medicine, and her additional interest in international relations drives her career goals towards a CIA surgeon. 
Committed to the University of Chicago in the fall, Kaitlin has a bright four years ahead of her. Through Kaitlin's kindness and passion, I have confidence that her future opportunities and challenges will shape her into the person she is meant to become. Through hardwork and perseverance, Kaitlin will positively shape her world in unimaginable ways. We wish Kaitlin luck on her future endeavors, and we are looking forward to what the future brings her.