Student Spotlight – Ciarenn Hollis
It was a cold afternoon. Lake Crescent rested calmly in front of us, and the trees towered incredulously above. In a small moment, our entire grade sat comfortably on the soft grass and admired the beautiful purples, oranges, and blues in the sky. There was a bond that joined everyone, a collective understanding of how the wind blew, how the lake's waves gestured, or how the branches crinkled beneath our toes. In the beautiful moment, the class played tag and a small Frisbee game. 
These moments of serenity and bond are memorable for Ciarenn. Having attended Keystone since second grade, Ciarenn has brought diversity, creativity, and vision. His devotion and love for the Keystone community inspires me, and I always feel comfortable and natural during our conversations. As a classmate with Ciarenn in Film and Animation and French, I've seen Ciarenn's talent with a pen and linguistic abilities first hand. When Ciarenn's not in class, I always recognize him because of his iconic cap. From different shows, movies, and books, each pin has its own meaning and familiarity, and Ciarenn wears it sentimentally almost every day. Everyone in the grade knows Ciarenn's iconic hat! 
As a vital person in the Keystone program, Ciarenn is part of Dungeons and Dragons, Literary Magazine, and National Honor Society. When I shadowed for Dungeons and Dragons in my sophomore year, I remember seeing a packed group of students in Mr. Lindsay's room laughing and smiling at the fantastical scenarios and fun imaginative adventures. I could tell—Dungeons and Dragons meant a lot to Ciarenn and his friends. Aside from clubs, Ciarenn, outside of school, engages with San Antonio's Fiesta Youth, an LGBT+ youth group, that plans LGBT+ friendly proms and events throughout the year. I have always admired Ciarenn's advocacy on Instagram, and I especially enjoyed watching his journey in the Fiesta Youth program on the sidelines.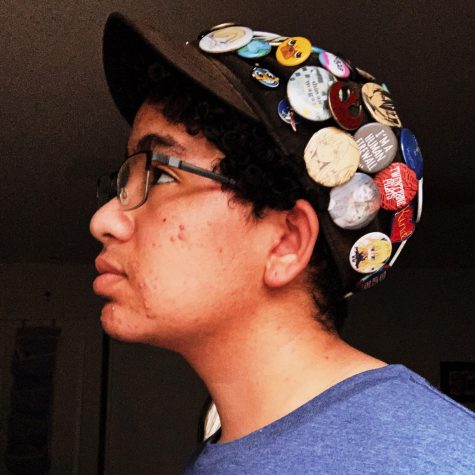 As for hobbies, Ciarenn runs an aesthetically-pleasing, relaxing, and inviting YouTube Channel called Matcha Mint. With lo-fi music, excellent quality footage, and helpful college advice, Matcha Mint is a welcoming, inclusive channel with school-related content. I always find myself attractive to the videos when completing my Calculus homework. The calm music felt satisfying and helpful for focusing on school and starting my breathing exercises. Another hobby that Ciarenn describes as "chaotic" and "evil" is his comedically-disturbing cat Instagram account. Picturing a hilarious photo of his cat looking like a cute demon, his Instagram makes funny merchandise of his "demon cat" and spams cat-related content. However, the hobby I've found most interesting from Ciarenn is his art. 
Over the years, I've seen Ciarenn's art style evolve. I remember attending Literary Magazine's Workshop for critiquing literary and visual arts, and Ciarenn attended. One of the pieces that struck me inspiringly was a mixed media collage. Using photoshop and surrealistic elements, I loved how each piece Ciarenn made was unique. It resembled young men climbing a brick wall in an urban city, and it felt confining, exhausting, yet adventurous. Another piece I loved was a Scholastic American Visions Nominated art piece that highlighted protests and political awareness. A silhouette of a person's head captures the audience's attention, and I could almost feel the crowds and noises of the protests morphed into the silhouette. One incredibly unique project is an actual game designed by himself where the player needs to find all the objects within a time frame. All the characters and backgrounds were designed by Ciarenn independently, and Ciarenn states that "seeing it all come together was great." After years of preparing an art portfolio, designing his game, and honing his skills, Ciarenn hopes to enter the game development industry and pursue all forms of art in his career.
One of Ciarenn's favorite artists is @aw.anqi on Instagram, who digitally draws abstract iridescent portraits of majestic cartoonish figures. There's a wonderful balance of color schemes and mythological features. Each artwork implies a different story in a similar universe. Re-created renaissance paintings are also interesting and engaging for Ciarenn. Interested in art history, surrealism, and animation, Ciarenn enjoys diverse styles and appreciates a variety of art mediums.
Ciarenn, despite his amazing artistic abilities, work ethic, and dedication to LGBT+ issues, came to Keystone with great difficulty. Catching up academically to his peers was a challenge, and he sympathizes for any transfer student who might feel inadequate or alone. In these situations, he urges students to "meet friends to help overcome" and "persevere through, try your best." Ciarenn believes that this mindset helped him overcome those educational challenges: "It's not just hard for you. It's hard for everyone." 
And after ten years of attending Keystone, he advises students to manage their time well. "If you wanna do something, do it. Go for it. If you succeed, this can be satisfying and rewarding." After spending hours on developing his own game, Ciarenn understands the rewarding feelings of his accomplishment and encourages students to do what they love adamantly. 
After knowing Ciarenn for over five years, I've always felt welcomed and accepted. Ciarenn is truly an amazing student who deserves so much and whom I had the honor to learn more about. I know Ciarenn will do fantastically in his game designing career, and I have no doubt that I'll see Ciarenn's game downloaded on my PC one day.