Clubs at Keystone Vol. III: Academic WorldQuest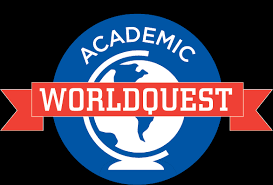 Every year, I'd always hear about Keystone winning Academic World Quest (AWQ) again. And again. And again, and again, and again, and now in 2021, Keystone has won first in the AWQ regionals for eleven years in a row. I had the amazing opportunity to join a call with the year's winning team, consisting of seniors Anjali, Ethan, Kaitlin, and Ali, to get an idea of what is Academic World Quest and learn more about the club in general.
Anjali started off by explaining that AWQ is a club dedicated to preparing the annual AWQ competition usually in February. This consists of a series of trivia facts over specific topics such as current events, foreign relations, and politics. Traditionally, students will meet at a conference hall, such as the hall at University of Incarnate Word's convention center. There, they would dress up, answer questions on a piece of paper and turn it in, and receive lunch in an HEB bag. This year, however, students competed in a Kahoot (sadly, without the music) at school. Furthermore, due to COVID-19, the past sponsor, Mr. Boryczka couldn't sponsor the club, so Anjali, dedicated to the club and its survival, took on several responsibilities for the club, including communicating with the people heading AWQ via email.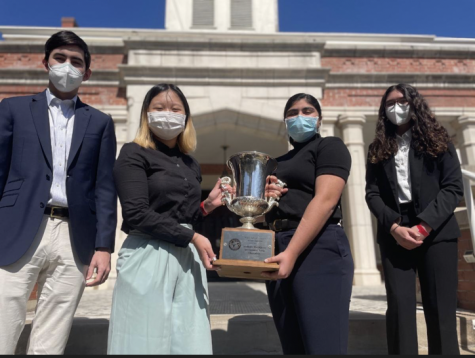 Before the competition, AWQ starts with the release of the study guide, a giant packet of everything to know and study for the competition. (This year, however, the guide was released later than before, further adding to the stress of the year.) The club has weekly practices; before the practice, they make up multiple choice questions for certain topics, similar to homework for the week, slowly getting through all the topics on the list. Practices themselves are an hour and on Zoom and Discord, in which the teams (this year, two) review the problems they created. 
The senior team has been together in some form since sophomore year. Then, Ethan, Kaitlin, and Anjali first competed, but they unfortunately didn't place. This fuelled their fire of wanting to win. Last year, their junior year, Ali joined the team, and they worked together to win 2nd place. Finally, senior year, they worked together and won first place. They won a lunch with two ambassadors, and progressed to nationals. If they win nationals, they'll get a trip to Qatar. Having worked together for the past three years, the team has several running jokes, ranging from Uzbekistan to Qatar. 
Unfortunately, the pandemic has hit this club hard. Two years ago, the club had three to four teams, but this year, the club only has two teams. The team worries that many might not be familiar with Academic World Quest, typically associating current events and politics with MUN. However, the team is optimistic that others will soon join the club and continue the Keystone legacy. To anyone interested in joining, despite the amount of time and dedication the club requires, the team believes that it's ultimately worth it: not only does winning open several new doors in San Antonio, but the club teaches other skills, like studying under pressure, trusting teammates, and learning about the world today. They encourage that anyone interested in learning new things should at least give the club a chance. 
Finally, to end the interview, I asked each member what their favourite topic of AWQ is. These are their responses:
Anjali: Global Protests
Anjali finds global protests fascinating because you don't see a lot of it in the general news. She finds the frequency of protests jarring, but she also appreciates how active people are around the world, especially the youth. 
Ali: Arab Spring
Ali finds Middle Eastern history fascinating because she is unfamiliar with the history, lacking Middle Eastern roots. She enjoys its complexity and has even tried to study and speak Arabic with Anjali.
Ethan: No Favourite Topic (Everything)
Ethan finds AWQ fascinating because while everything is newsworthy, what students learn aren't in headlines. He enjoys having a lot to learn and the different movements worldwide, so he cannot decide on a specific topic.
Kaitlin: Fraying Alliances
Though close with the Country and Folk of South Korea, Kaitlin enjoys learning about fraying alliances because learning about the pains makes her want to improve the society and take action.