Student Spotlight – Marshall Kippenberger
I have had the pleasure of growing up alongside Marshall. From tiny, curious five-year-olds first stepping into the kinder-cottage to determined eighteen-year-olds about to start their next chapter in life, Marshall has been by my side. When I replay my memories of Marshall throughout the years, three words come to mind: kindness, hard-work, and smiles. Marshall has always been the kindest person in the room. Whether it is helping a fellow classmate with homework or, simply, being there to listen to a friend in need, Marshall is always there for the people he loves. Yet Marshall is also one of the hardest workers I know. After suffering from a stroke and missing most of eighth grade, Marshall persevered in both his academics and soccer career to reach the success he has today. Even more so, Marshall's humor and livelihood lighten up any room he walks in — wherever he goes, the people around him are smiling.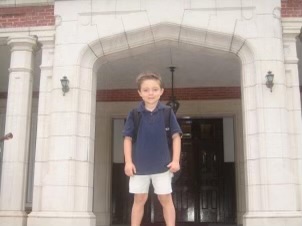 As a lifer at Keystone, Marshall attributes his development into the person he is today to his experience growing up at the school. "It's honestly been a wonderful experience growing up in Keystone," he claims, adding "Keystone has become a family for me, it's become a home away from home. That's something I've really enjoyed, and it's something that is going to impact me for the rest of my life." He describes his experience with his peers as especially unique, a type of unique he plans to cherish forever as he has now learned the beauty of building connections, outside of his immediate family, based on mutual trust and love. Marshall highlights that his experience growing up at Keystone has helped him form close bonds with his teachers from lower to upper school. He describes this as a type of bond many people outside of Keystone do not understand because they do not have the opportunity to experience it to the extent that students who have grown up at Keystone have. He adds that Keystone has helped him immensely in his college search in that he wants to go to a school that offers the same small, tight-knit community that Keystone offers — "Keystone has introduced me to a lot of new things and now I know what I want. For college, I want to be at a school exactly like Keystone where I can form bonds and have a really small community that really just becomes a family and a home." 
Marshall's favorite class throughout his Keystone career is AP European History with Dr. Caraway during his sophomore year of high school: "I know it was our first AP Course, and it was supposed to be a really hard, miserable experience. However, I actually really, really liked the class." Marshall describes the class as his first lecture-style class, a method of teaching that, he learned, fit him quite well. Although the class was challenging, Marshall achieved great overall success and grew immensely as a student. "I really admire Dr. Caraway and look up to him a lot, it's been really nice getting to learn under him," adding that, "Dr. Caraway and his teaching really made AP Euro my favorite class."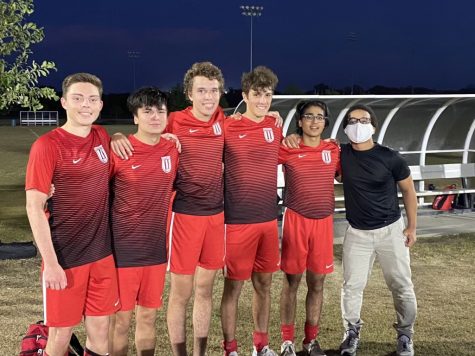 Outside of classes, Marshall involves himself in the school yearbook club, the National Honor Society, Quizbowl, and the school soccer team. As an active member of the Keystone soccer team his freshman and sophomore year, he rose the ranks to team captain for his junior and senior years of high school. "I really enjoy teaching people how to do something that I care about and that I've been passionate about for a very long time," Marshall added. He described Coach Unruh's coaching style as quite unique, one where the team captains lead the practices rather than the coach himself. Marshall believes that this coaching style helps create a stronger bond between the more experienced team members and those still learning. In addition to the Keystone soccer team, Marshall plays soccer on a club team outside of school. In middle school, he played for Fire Soccer Club with Andy before moving to Classics Elite. Currently, however, he plays at a club called Samba with Andy, Aidan, and Adam. Aside from soccer, Marshall enjoys spending his time away from school volunteering and working to uplift his community, as he spent the summer of 2019 volunteering at the Doseum on Broadway Street. 
For relaxation, however, Marshall enjoys playing video games: "I'll play anything and everything, I really like trying new things." More recently, Marshall claims that he has been getting more adventurous in the realm of video games. However, his favorite is Destiny 2, which was one of the first games he ever played. It introduced him to a new experience: the world of gaming. Besides playing video games, Marshall is an avid reader, especially when it comes to Greek Mythology. A book that Marshall thoroughly enjoyed is Eragon by Christopher Paolini, but he has recently been reading Stephen King novels. In addition to being an avid reader, he spends his free time listening to music, playing chess online with Aidan, and playing with his dog and cats. 
Marshall cites his biggest accomplishment as recovering from his stroke in eighth grade, catching up on the months of schoolwork he missed, and still attaining great academic and extracurricular success within the Keystone community. In his hardest times when he was recovering from his stroke, Marshall's mother stood by his side. His mother, he claims, is who has had the largest influence on his life: "She has shaped me into the person I am, she has given me the values I hold. She's really taught me everything and has always been there for me whenever I need her. Even when I don't know that I need her, she's always been there to support me." 
When asked where he sees himself in ten years, Marshall jokingly responded, "employed, if all goes well in college." His true passion is psychology and, assuming he keeps on that course, he sees himself finding a line of work within that field. However, he added "the beauty of it is that I don't really know where I'll be in ten years. Life is so malleable, unpredictable, and dynamic. You never really know what's going to happen. Eighth-grade year was a perfect example for me. I never expected my stroke to happen to me, but here we are and I think I am a better person because of it." Marshall described life as throwing the unexpected at us — life may even throw him something that sparks his passion even more than psychology! That, Marshall describes, is the beautiful thing about life. Its unpredictability is what makes life worth living. 
As a senior, Marshall's time at Keystone is drawing to a close. He talked about the feeling of sadness building inside him as he imagines his thirteen years at Keystone moving towards its ending point: "It doesn't feel like I'm really leaving Keystone, honestly. It just feels like I am going to be coming back next year for senior year part two." As he embarks on his newest journey, Marshall describes the feeling as surreal, "knowing that you're going to be somewhere else with a bunch of people that you don't know, by yourself, and it's up to you to figure it all out." He, however, is looking forward to meeting new people, creating new bonds, and building new relationships. He feels as if his experience growing up at Keystone has taught him how to make these bonds and build a family through mutual trust and connection. "I don't think anything is ever going to match what I've had at Keystone, because I don't think anything can compare to the friendships I've had here and the close relationships I've built that have taken us over a decade to form and get where we are today." His time at Keystone, as he reflects, has blossomed into a beautiful memory and a beautiful journey that will impact him forever. Seeing how much he has progressed and changed as a person, from that small little five-year-old in the kinder cottage to the eighteen-year-old about to head off to college, is truly mesmerizing. "I am really just a completely different person today than I was when I entered the cafeteria on the first day of school in kindergarten." 
In the future, when Marshall becomes world-famous, we'll all be waiting in line to see the movie of his life, starring either Ryan Reynolds or Chris Pratt. Although, neither Ryan Reynolds nor Chris Pratt can compare to Marshall's greatness, I am very excited to see this future movie on the life of Marshall. Through Marshall's kindness, hard work, and the smiles he brings to those around him, I have confidence that his future opportunities and challenges will shape him into the person he is meant to become. Through creativity and perseverance, Marshall will positively shape his world in unimaginable ways. I wish Marshall luck in his future endeavors, and I am looking forward to what the future brings him.