International Filmmakers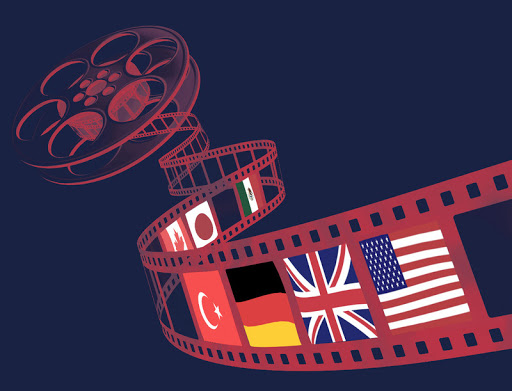 While many viewers have begun to take notice of more international films with the extreme popularity of Bong Joon-ho's Parasite, there is–quite literally–an entire world of filmmakers that is yet to be explored by mainstream audiences. For instance, while this list may only focus on film directors, there are scores of amazing international TV shows like Spain's La Casa de Papel (or Money Heist, as it is known in the U.S.), France's Lupin, Japan's Midnight Diner, Germany's Dark, and  South Korea's Kingdom–all worth taking a look into.
I hope that readers, like yourself, take interest in some of the ideas that international filmmakers tackle, ideas that may vary from the familiar to the foreign. Initially, these ideas may not resonate with all viewers, but, ultimately, these immensely talented artists create a story that can be understood beyond the subtitles at the bottom of a screen.
Truthfully, the most difficult part of assembling this list is not being able to go on and on for pages.
Also, these filmmakers are in no particular order so feel free to explore who truly interests you.
Alejandro G. Iñarritu (Mexico):

An Academy-Award winning filmmaker, Iñarritu has established himself as one of the best Mexican directors of all time with features like

Amores Perros

,

Biutiful

,

Babel

,

Birdman or (The Unexpected Virtue of Ignorance)

, and

The Revenant

. 

Pedro Almodóvar (Spain):

Known as a world-renowned auteur of cinema, Almodovar's films consist of ethereal, often supernatural, masterpieces that dissect the intricacies of the human condition. Some of his films include

Talk to Her

,

La Mala Educación

,

Volver

,

The Skin I Live In

, and

Pain and Glory

.

Bong Joon-ho (South Korea)

Bong Joon-ho (South Korea): With the release of his 2019 social-class allegory Parasite, Joon-ho's recent skyrocket to international fame has been a well-deserved trajectory for a filmmaker who puts thought into every minute detail of his extraordinary films, which include Memories of Murder, Mother, Snowpiercer, and  Okja.

Alfonso Cuarón (Mexico):

My personal favorite Mexican filmmaker, Cuarón has used his magic touch of filmmaking to create some of the most magnificent films of the previous two decades, like

Y Tu Mamá También

,

Children of Men

,

Harry Potter and the Prisoner of Azkaban

,

Gravity

, and

Roma

Pablo Larraín (Chile):

As one of the most talented filmmakers to come out of South America, Pablo Larraín has easily made the difficult transition to Hollywood with films like

No

,

The Club

,

Jackie

, and

Spencer

, an upcoming film about Lady Diana starring Kristen Stewart.

Sebastián Lelio (Chile):

A close collaborator of Larraín, Lelio is another Chilean filmmaker who recently won an Academy-Award for

A Fantastic Woman

, a film about a transgender woman struggling with her boyfriend's death. His other films include

Gloria

,

Disobedience

, and

La Sagrada Familia

.

Lee Chang-dong (South Korea):

After the popularity of his 2018 thriller

Burning

(which was featured on Obama's favorites of 2018 list), Chang-dong has received much-warranted attention with his compelling and unique storylines, like in

Poetry

,

Oasis

, and

Secret Sunshine

.

Mati Diop (France):

Although she may have begun her career as an actress, Diop has proven to be a rising filmmaker with her 2019 film

Atlantics

, a futuristic romance set in Senegal, and her documentary on the fame of a Senegalese actor in

A Thousand Suns

.

Asghar Farhadi (Iran):

After winning two (yes, two!) Academy-Awards for his films

A Separation

and

The Salesman

, respectively, Farhadi has been known as one of the best filmmakers out of the Middle East with his themes on family, masculinity, and betrayal. His other films include

About Elly

,

The Past

, and the Spanish-language

Everybody Knows

.

Yorgos Lanthimos (Greece):

Known for his extremely disturbing and gratuitous style of filmmaking, Lanthimos is a highly-renowned writer-director with films ranging from horrors to dark comedies to disturbing thrillers, which include

Dogtooth

,

The Lobster

,

Killing of a Sacred Deer

, and

The Favourite

. 

Zoya Akhtar (India)

Zoya Akhtar (India): I would be remiss if I did not include filmmakers from the biggest film industry on the planet, and Zoya Akhtar is definitely one of the most mature artists in Bollywood right now with her films on family and social class like Zindagi Na Milegi Dobara, Dil Dhadakne Do, and Gully Boy.

Vishal Bhardwaj (India):

A multi-talented director, writer, and composer, Bhardwaj is known for his trilogy of Bollywood adaptations of Shakespearean plays, like

Maqbool

(

Macbeth

),

Omkara

(

Othello

), and

Haider

(

Hamlet

), as well as his other films like

Kaminey

and

Firecracker

.

Alain Gomis (France):

Similar to Mati Diop, Alain Gomis is a French filmmaker who tells unique stories from the perspective of Africans, like his breakthrough film about a singer looking for her son after a motorcycle accident in the Democratic Republic of the Congo

Félicité

.

Rungano Nyoni (Zambia):

As a young, female African filmmaker, Nyoni is constantly breaking through restrictive barriers using her skill as an artist; clearly displayed in her 2017 feature

I Am Not a Witch

which is about a young Zambian girl defending herself from accusations of witchcraft.

Kornél Mundruczó / Kata Wéber (Hungary):

With Wéber's beautifully written scripts and Mundruczó's extraordinary eye for direction, this pair of Hungarian filmmakers have made some magnificent films like

Johanna

,

Delta

,

White God

, and the recent Netflix drama

Pieces of a Woman

.

Ildikó Enyedi (Hungary):

In her Netflix-produced Academy-Award nominated film

On Body and Soul

, Enyedi created a distinct story about strangers connecting through their dreams, a testament to her idiosyncratic storytelling style also shown in

My Twentieth Century

and

Simon, the Magician

.

Paweł Pawlikowski (Poland):

One of the most prominent filmmakers in Eastern Europe, Pawlikowski initially shot to fame with his Academy-Award winning drama

Ida

, about a German nun in WWII, and he was recently nominated for his heartbreaking romance

Cold War

. 

Hirokazu Koreeda (Japan):

Although he might not be a household name in the U.S., Koreeda is a highly-renowned filmmaker in Japan who makes beautiful dramas about Japanese life like

Nobody Knows

,

Still Walking

,

Like Father, Like Son

, and

Shoplifters

.

László Nemes (Hungary):

Yet another Hungarian filmmaker on the list, Nemes provides a unique perspective on major world events, like in his Academy-Award winning Holocaust drama

Son of Saul

, about a Hungarian-Jew's life in a concentration camp, and his recent film

Sunset

.

Paolo Sorrentino (Italy)

Paolo Sorrentino (Italy): Quite possibly one of the most popular filmmakers in Italy, Sorrentino has already captivated American audiences with his films Youth and This Must Be the Place, however, his Italian films, like Il Divo and La Grande Bellezza, are some of his best. 

Zhangke Jia (China):

Although there are not many prominent Chinese filmmakers in the U.S., Jia is definitely one to know because of his frequent use of time-jumps, which provide a phenomenal outlook in his films like

A Touch of Sin

,

Mountains May Depart

, and

Ash Is Purest White

.