Fantasy Football: Steals, Busts and MVPs
This year's NFL season was initially put into question due to the ongoing effects of the pandemic, but, luckily for us, the NFL season was allowed to play out, enabling countless football fans to experience the numerous free agency surprises, such as Tom Brady playing for the Buccaneers after twenty long seasons with the Patriots or DeAndre Hopkins playing for the Cardinals, following the mind-numbing trade made by the recently fired Bill O'Brien. Nonetheless, a new season meant a new year of fantasy football, and following the first quarter of this season's games, this article will tackle the manifold of fantasy football steals, busts, and MVPs so far. 
Draft Steals
1. James Robinson (RB) – Jacksonville Jaguars
James Robinson was arguably the biggest steal of the fantasy draft this year. Following the sudden departure of Leonard Fournette and countless other departures, the Jaguars were slated to be the laughing stock of the NFL that would undergo a serious rebuild. Robinson, an undrafted free agent, signed with the Jaguars as he believed he would have a larger role in the offense. Surprisingly, the Jaguars' offense proved efficient given the lack of personnel and Robinson established himself as a key producer. Currently, he ranks as a top 10 fantasy back, and, given that he likely went in the last rounds of the draft or even as a free agent acquisition in most fantasy leagues, he has proven to be a solid RB2 and a clear steal. 
2. Kareem Hunt (RB) – Cleveland Browns
Given that Baker Mayfield underperformed his sophomore season and couldn't establish a solid connection with wideout Odell Beckham Jr., the Browns' offense would look to rely heavily on the run game this season. While Kareem Hunt would be seen as a versatile weapon this season, Nick Chubb was assumed to carry out the majority of the snaps. However, Kareem Hunt surprised many fantasy owners with his consistent production and elevated himself from a flex option taken in the mid-rounds of the draft to a RB2 or even RB1. Then Nick Chubb went down, and all of a sudden, Kareem Hunt saw himself as the primary running back in one of the most run-favored offenses in the league.
3. DK Metcalf (WR) – Seattle Seahawks
Besides fumbling a wide-open touchdown at the one-yard line vs the Cowboys, DK Metcalf has made fantasy owners extremely happy with his consistent performances each week. Tyler Lockett was slated to be the fantasy favorite during most drafts, leaving DK Metcalf as a variable going into the season. Going as late as the 5th or 6th round, DK Metcalf has become a top-five fantasy receiver, averaging around 15 points a game (non-PPR), and an easy WR1 option. 
4. Justin Herbert (QB) – Los Angeles Chargers
Arguably the biggest steal of the draft among quarterbacks, Justin Herbert emerged as the starter following a medical accident which left starting quarterback Tyrod Taylor with a punctured lung. Herbert, who many assumed would sit the majority of the season, was thrown into the spotlight in Week 2 against the Kansas City Chiefs and put on a performance which fell short of a victory by a meager field goal. Patrick Mahomes hasn't been the only star quarterback challenged by Herbert; Drew Brees and Tom Brady nearly suffered losses to the electric rookie as well. Fantasy-wise, Herbert has fared well; subtracting his subpar performance from Week 3, he averages 27 points per game. Many fantasy owners who waited too long to draft a quarterback have likely found solace in Justin Herbert, whose performances only seem to grow as the weeks progress. 
5. Travis Fulgham (WR) – Philadelphia Eagles
Nobody knew who Fulgham was going into this season, but he has quickly made a name for himself as the go-to guy of the Eagle's passing offense. In the last five contests, he's averaged 87 yards per game and a touchdown in all but one appearance. His sample size as of now is relatively low considering he was a practice squad receiver last season and didn't start until Week 4 of this year, so it is unclear whether this consistency will continue for the remainder of the year. Nonetheless, he is a must start as of now. 
Honorable Mentions: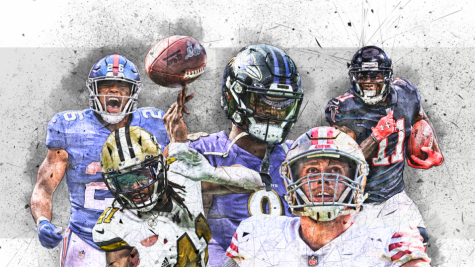 Darrell Henderson Jr. (RB) – Los Angeles Rams
Justin Jefferson (WR) – Minnesota Vikings
Antonio Gibson (RB) – Washington Football Team
Tee Higgins (WR) – Cincinnati Bengals
Biggest Fantasy Busts
1. Saquon Barkley (RB) – New York Giants
Fantasy owners who drafted Saquon Barkley likely won't be winning their league this year. Spending your first-round pick on Saquon only for him to tear his ACL in week two isn't a good feeling, and unless you managed to stock up on running backs this year, it may be rough recovering from this. 
2. Cam Akers (RB) – Los Angeles Rams
Two years ago, Todd Gurley had been the most productive running back in the league in terms of fantasy football but soon would develop significant arthritis, completely hindering his ability to play. Over the offseason, the Falcons signed him following his release, and the Rams decided to draft Cam Akers in the second round, who was presumed to become the head back in LA. The opposite occurred with second-year Darrell Henderson taking the majority of snaps and veteran Malcolm Brown seemingly becoming the second option. This was disappointing considering he often went in the 4th or 5th round for many fantasy owners. It's unclear whether he'll develop a significant role in the offense anytime soon. 
3. Mark Ingram (RB) – Baltimore Ravens
Last year, Mark Ingram found a heavy workload on the Ravens and was slated to adopt a similar workload. There was some skepticism towards his role considering J.K. Dobbins was drafted in the second rounds by the Ravens, but this didn't stop fantasy owners from taking him with a 5th or 6th round pick. However, the ravens have begun evenly splitting touches among their backfield which consists of Ingram, Dobbins, and Gus Edwards. This alone has completely ruined any value Mark Ingram previously had. 
4. Le'veon Bell (RB) – Kansas City Chiefs
Many years ago, Bell was considered a top running back in the NFL. Now, he has found himself released by the Jets and inheriting a portion of rookie running back Clyde Edwards Helaire. The Jets established themselves as the worst team in the NFL and Le'veon Bell found little production in his time on the team. Considering he isn't even the lead back on the Chiefs offense, which hasn't even established a reliable run game in the first place, his fantasy value pales in comparison to what he had going into the draft. 
5. Dak Prescott (QB) – Dallas Cowboys
Dak Prescott, unfortunately, underwent a season-ending injury that disappointed many fantasy owners, considering he was leading the league in passing yards and had a monstrous weekly average in points. The only reason Dak isn't higher is because quarterbacks are relatively easier to replace than other positions, fantasy owners got a decent production from when he was healthy, and many fantasy owners likely took a decent backup QB later in the draft. 
Honorable Mentions: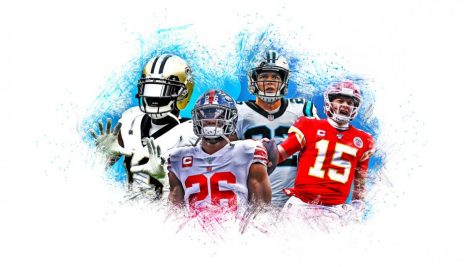 T.Y. Hilton
Evan Engram
49ers (Defense)
Michael Gallup
With all that said, here are my rankings of the most valuable fantasy assets so far. Players are chosen based on their consistency and production in regard to their location in the draft. 
1. MVP — Russel Wilson (QB) – Seattle
Not much to say here. Wilson earned his title for his weekly average of nearly 30 points and his consistent performances in the high-powered Seahawks offense. 
2. Dalvin Cook (RB) – Minnesota 
Going into the draft, I wasn't high on Cook and likely would've passed on the opportunity to draft him. He proved me wrong and established himself as a consistent RB1. Many players taken before him haven't come close to his level of production. 
3. Alvin Kamara (RB) – New Orleans
Arguably the most valuable running back, Kamara has shown to have a high floor along with a high ceiling this season. Considering he was likely taken behind Ezekiel Elliot, Saquon Barkley, and Christian McCaffrey in many leagues, one could consider him to be a first-round steal. 
4. Davante Adams (WR) – Green Bay Packers
After his outing against the Houston Texans, any worries about his recent injuries have been resolved due to his spectacular performance netting over 30 fantasy points (Non-PPR). Adams seems to have the highest ceiling of any wide receiver this season, and a relatively high floor due to his connection with quarterback Aaron Rodgers. Now that he is active for the packers, his fantasy value has skyrocketed. 
5. Kyler Murray (QB) – Arizona Cardinals
Kyler Murray likely went as the 5th or 6th quarterback taken in many leagues with names like Patrick Mahomes, Lamar Jackson, and Deshaun Watson being taken ahead of him. This pick may be controversial due to the number of interceptions he has thrown so far and the low level of defenses he has played as of now. However, this hardly puts a dent in his value considering he averages over 26 points a game and has a unique rushing ability which allows him to rack up tons of points. Out of a sample of 7 games, he has only had one game without a rushing touchdown and is consistent in his overall yardage. Considering his lowest performance so far netted 21.7 fantasy points, Kyler Murray was a nice surprise for fantasy owners (like myself) who may have been disappointed to miss out on quarterbacks initially valued higher in the draft. 
Honorable Mentions:
Josh Allen (QB) – Buffalo Bills
Derrick Henry (RB) – Tennessee Titans
Patrick Mahomes (QB) – Kansas City Chiefs
Aaron Jones (RB) – Green Bay Packers
Although the season so far has had its ups and downs, with multiple teams having COVID-19 outbreaks and a large number of star players going through season-ending injuries, the season has still proven to be an entertaining and competitive year for millions of fantasy owners. Hopefully, we will be spared of any more devastating injuries down the line as the season continues amid the dangers of a pandemic.