The Curious Marketing of Shang-Chi and the Legend of the Ten Rings
Marvel Studios' latest film, Shang-Chi and the Legend of the Ten Rings has been breaking records and making headlines, surpassing the grim initial predictions of the film's success. Released September 3rd, it's Marvel's second of four movies slated for 2021, sandwiched between the highly-anticipated Black Widow movie and the star-studded Eternals coming in November and Spider-Man: No Way Home in December. Introducing the audience to a brand-new cast of characters, Shang-Chi had seemingly gone forgotten by Marvel for a long while, till the company attempted to cram in all the marketing within two weeks.
The first Asian-led superhero movie (but not the first Asian superhero in a Marvel production, as that honor goes to the show Marvel's Agents of S.H.I.E.L.D.), Shang-Chi was part of Marvel's efforts to diversify their cast while also bringing in new and exciting characters to follow. With raving reviews from critics, this movie rightfully became a box office success that was not entirely expected, not to Marvel's credit.
From the beginning, Shang-Chi was at a disadvantage. Even in a normal year without a pandemic, this film would be introducing new, relatively obscure characters to the audience which normally would have resulted in special promotion. However, this movie was also dubbed "an experiment" by Disney's CEO Bob Chapek in its release strategy: despite coronavirus cases rising in the U.S., Shang-Chi was set to release exclusively in theaters for a 45-day run, half the typical theatrical run. This was in stark contrast to the simultaneous release of Black Widow coming to theaters as well as a premium release on Disney+. Despite already having an uneasy path ahead, Marvel Studios and Disney then neglected to seriously promote their movie until mere weeks before the release.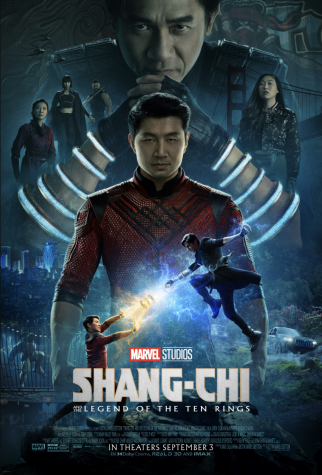 To set the scene: Black Widow is released in early July, after over a year of delay, with months of advertising and much fanfare, finally dying down weeks after its release, with some fans now setting their sights on Shang-Chi set for early September. Of the people who remember the movie, few are particularly looking forward to it, even less discussing it. Some talk about skipping the movie altogether. August begins to creep by, with hardly a peep from Marvel Studios until they slowly begin releasing promos and more posters for the movie, though much of the "promotion" so far has come from unofficial posting from the lead actor Simu Liu. In fact, Marvel has been promoting their Disney+ series What If…?, a T.V. series that doesn't appear to take place in the primary Marvel timeline, more than their upcoming movie. And all of a sudden, August 19th comes and the Eternals second trailer is released, drawing attention away from the more imminent movie. Then, even more grievous, the following week on August 23rd, the first trailer for Spider-Man: No Way Home is dropped after months and months of begging from fans. Any and all existing chatter that was there for Shang-Chi is immediately dissipated as the Internet collectively blows up over Spider-Man. The fans are going insane, and every post you see is about Spider-Man or Dr. Strange or a meme about the multiverse. The trailer breaks records for views, and everyone and their mother is talking about it, all while Shang-Chi is coming in under two weeks.
And finally, after these, Marvel decides to promote their film, releasing countless T.V. spots and mini trailers on social media, yet still holding back on the interviews, official articles, and other forms of promotion that were available for previous movies. This chaotic series of events and lack of chatter surrounding the movie led to most people assuming that it would bomb at the box office, and yet, it has now become a success. Even Marvel was reportedly nervous about its release, considering delaying Eternals, but was assuaged at the success.
However, when you look at the bigger picture, it seems disappointing that Marvel would largely ignore this movie, especially when you consider their past problems with BIPOC representation (queer representation is also lacking, which you can read a bit more about here). Rumor has it that several years ago, Marvel Studios' former head Ike Perlmutter denied any attempts to make any female-led or BIPOC-led movies. As a result, Marvel's first movie starring anything other than a white man came out only in 2017. This was Black Panther, starring Chadwick Boseman (may he rest in power) with a largely black cast. Marvel's first female-led movie Captain Marvel came out in 2019, with the more recent Black Widow this year. Both the former are largely considered successes for Marvel (even if the storytelling for Captain Marvel could use some work), and all three of the movies had relatively large rollouts and grand reception from audiences. When juxtaposed to Shang-Chi's treatment from Marvel, I end up with a feeling of disappointment. With all the puzzle pieces put together—Marvel's odd release of trailers for other movies, Chapek's comments, and the overall rushed marketing strategy—it looks deliberate on Marvel's end to largely ignore a movie that should be celebrated as a step forward in representation in addition to being a fantastic origin movie overall.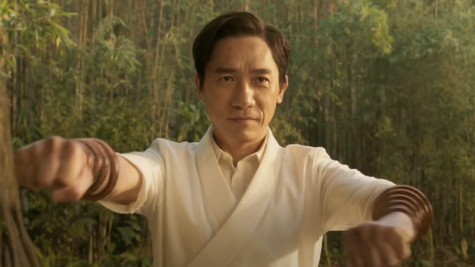 What's worse, by almost all accounts, this movie is incredible. For a mini non-spoiler review, these are my brief thoughts: the tone is so different from what we've had before, yet it works so well in this movie. The visuals are better than I thought they would be and were flat-out gorgeous at times, standing out amongst other Marvel films. The acting is great (I especially loved Tony Leung as Wenwu and Meng'er Zhang as Xialing), and it sets this new world up very well and with style. They didn't even reveal too much in the main trailers. The reviews for this movie have been overwhelmingly positive, critics adore this movie, and yet, some people might not see it because of Marvel's illogical marketing and release.
Marvel's plate for this year has been very full, and fans have been eating well. With five Disney+ shows and four movies being released in the latter half of 2021, it's a difficult balance to not have overexposure. However, some of these issues could have been more easily resolved. Marvel could have begun their promotion for Shang-Chi earlier, perhaps beginning in late July rather than beginning merely two weeks before the movie and cramming it all in that short amount of time. They could have released the Eternals trailer earlier (or later, after the Shang-Chi release) in order to not seriously interfere with the ongoing marketing. Similarly, waiting just a bit longer to release the Spider-Man trailer could have been fine, considering the many months that fans had been begging for it.
There's a chance that this could be repeated with the upcoming movie Eternals, which is also an origin movie that will be breaking boundaries for representation in the Marvel Cinematic Universe (MCU), including Marvel's first deaf superhero and their first Latino and openly gay superheroes in Marvel's movies. Coming in just over a month, Marvel also hasn't yet begun seriously promoting it.
As mentioned previously, despite having the odds stacked against it, Shang-Chi has still managed to perform amazingly well at the box office, becoming the highest-grossing domestic movie of 2021, considering the circumstances (as well as the lack of a release in China). How that managed to happen is a marvel within itself (heh, see what I did there?), achieved by eager fans and fantastic moviemaking. Still, it feels wrong that Marvel has seemingly consciously chosen to neglect what should be a celebrated film and instead has chosen to rush their efforts and move on.
In conclusion, you should go watch Shang-Chi and the Legend of the Ten Rings (if you can). The success it has achieved proves that a quality movie can still break expectations, and a movie like this has touched many people through its message and diverse (and entertaining) character portrayals. So if you're looking for something to do this weekend, this movie might be something for you to check out.