2021 Grammys: Kinda Good?
Derek Wong, Staff Writer, Co-Editor in-Chief
April 9, 2021
Ah, the Grammys. Love them or hate them, there's no denying that the event will always draw at least some curious minds into the event. This year's Grammys, however, were… interesting, and in all honesty, this might have been one of their best iterations in years. Now, I've previously made some predictions on who might win, and I was genuinely surprised by some of the choices. So, without further ado, let's break down the 2021 Grammys!
THE HOST!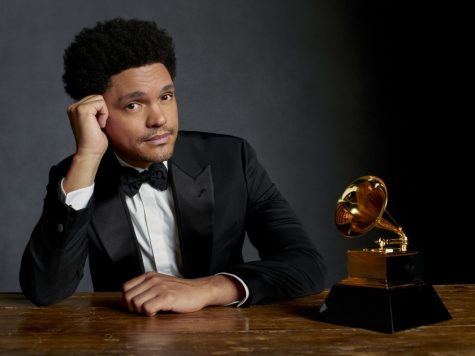 Trevor Noah was a joy! Some people might disagree with me, but I think his humor is the perfect balance of self-awareness and humor, and he certainly did that at this year's show. He was not afraid to make jabs at the pandemic or the gossip in the Royal Family, and his jokes were tasteful and polished. My tiny quibble would be his attempt to look cool after Cardi B's performance (more on that later), but honestly, he should host the damn thing again.
THE VENUE!
This year's Grammys had a different layout to accommodate social distancing guidelines (also considering the fact that they already postponed the event from the original January date). For one, there is a lack of a general public audience. Two, the awards were presented outside in the Los Angeles Convention Center. Finally, performances were inside in a pseudo-amphitheater-like room where different performers occupied one area of the room, usually with three performances at a time before switching to the next group of performers during the commercial break. These accommodations may seem off, but considering that almost all of the previous shows were almost entirely virtual, this layout is a welcome one.
THE PERFORMANCES!
The performances were good! No joke! The streamlined layout of the show meant that performances flowed more smoothly than a typical show would. Harry Styles opened the show with an enlightening performance of "Watermelon Sugar"; Taylor Swift took us to the woods to perform a medley of "cardigan," "august(!)," and "willow." Silk Sonic, the newly formed supergroup of Bruno Mars and Anderson .paak, performed a groovy version of "Leave the Door Open." Lil Baby even performed the anthem "The Bigger Picture," which I'm surprised the homogeneously white Recording Academy allowed. However, the best performances of the night belonged to the following ladies: Megan Thee Stallion, Cardi B, and Dua Lipa. Megan Thee Stallion took us back in time to the showgirls era to perform "Body" and "Savage" (sans Beyonce, though she was in the audience. Her appearance at all was already a shock so she's forgiven), and she gave us the sass and upbeat energy we needed while we sat on the couch. She then joined Cardi B, who, after a great performance of her latest single "Up," then performed a heavily censored version of WAP while doing moves that make you ask, "Is this allowed on primetime TV?" Finally, a new pop queen is born. Miss Dua Lipa started her performance with a mild version "Levitating" featuring DaBaby, but she broke into a dance break that dropped a lot of jaws before going into her megahit "Don't Start Now." What a night to be a Dua Lipa fan.
THE AWARDS
Now here's the weird part. The awards are always going to be divisive, but this year's choices were just huh??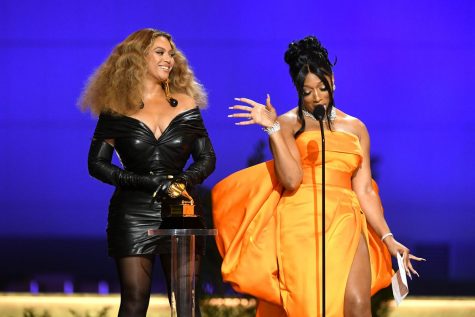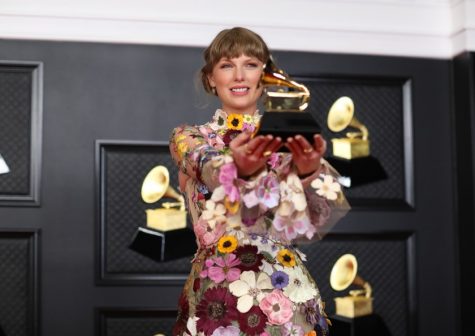 Let's start with some rightfully deserved awards. 
Megan Thee Stallion picked up three awards that night, winning "Best New Artist," "Best Rap Song," and "Best Rap Performance," the latter two for her hit "Savage." 

Taylor Swift got "Album of the Year" for

folklore

while Dua Lipa got "Best Pop Vocal Album" for

Future Nostalgia

, which got a tiny grumble from me as I wanted Dua to win the highest album honor, but

folklore

is an understandable and well-deserved selection. 

Lady Gaga and Ariana Grande got "Best Pop Duo/Group Performance" for "Rain On Me," beating out crowd-favorite "exile" from Taylor Swift and Bon Iver and "Dynamite" from BTS (ARMY can come for me but Dynamite was lucky to be even nominated). 

Dance artist KAYTRANADA snagged both "Best Dance Recording" for "10% (feat Kali Uchis)" and "Best Dance/Electronic Album" for

Bubba

, two well-deserved wins for this rising dance artist. 

Fiona Apple, despite not appearing at the ceremony, got "Best Rock Performance" for "Shameika" and "Best Alternative Album" for

Fetch the Bolt Cutters

.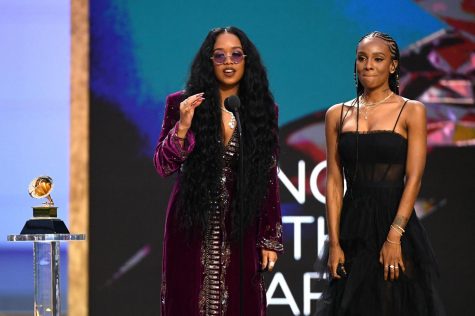 Then we have the odd ones. 
Harry Styles' "Watermelon Sugar" beat out the clear-favorite, Dua Lipa's "Don't Start Now," for "Best Pop Solo Performance." While there's no doubt that Harry deserved his first Grammy win, it is arguably for the wrong song. "Adore You" was arguably a bigger hit and deserved to be nominated over "Watermelon Sugar," but even then, "Don't Start Now" was a mammoth hit, reigning the entire first half of 2020 and had a longer shelf life than "Watermelon Sugar." Heck, "Say So" is more qualified to win than "Sugar" (although Doja winning might cause some controversy, more on that in a bit).

Phoebe Bridgers, despite having a phenomenal sophomore album,

Punisher

, walked away with zero awards. Same thing with Chloe x Halle, who saw little love for their beautifully crafted

Ungodly Hour

. 

Dua Lipa, Taylor Swift, and Roddy Ricch, despite being the second most nominated artists of the night, walked away with almost nothing. Dua and Taylor both got one each for the album awards mentioned above while Roddy Ricch got shut out. DaBaby also got shut out despite having four nominations.

Doja Cat won zero awards despite being one of the crowd favorites for "Record of the Year" or "Best Pop Solo Performance." However, this snub is just a tad bit understandable because the Grammys may not have wanted to award Dr. Luke, a controversial producer with sexual assault allegations that produced the song.

H.E.R. won "Song of the Year" for "I Can't Breathe." While definitely a refreshing choice and I even kinda rooted for the song to win, I certainly did not expect it to win (and neither did the Internet) over "cardigan" by Taylor Swift or "Don't Start Now" by Dua Lipa. However, since the award is for songwriting and giving the tumultuous times we went through last year, this was perhaps the best choice.

FINALLY, the biggest huh? moment of the night: Billie Eilish beating out everyone for "Record of the Year" with "everything i wanted." To be frank, I kinda had a hunch that the Grammys wanted to award their 2020 Grammy favorite, but I did NOT expect her to win this over the almost-guaranteed favorites, "Don't Start Now" or "Savage," both of which are bigger hits and had larger cultural impacts. Also, she already won an award that night for "Best Song Written for Visual Media" with "No Time To Die," so this choice was a really "what the heck" moment.
So there you have it. This Grammys night actually didn't suck. It really didn't. I will begrudgingly tip my hat to the Grammys for pulling it off during the pandemic and not have the show slug through the night. That being said, the Grammys still have major problems to tackle, and as the music industry continues to evolve, the white guys making up the Grammys committees will have to confront this certainty, sooner or later.
About the Writer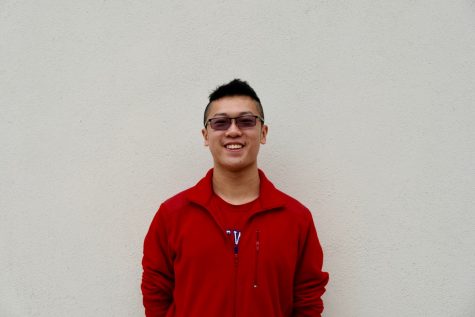 Derek Wong, Editor-In-Chief and Media Coordinator
Derek Wong is a senior who likes discussing hot topics relating to politics and the entertainment industry. He frequently participates in Model UN, loves...