Student Spotlight – Allison Wu
Whether it is organizing a roller skating summer meet-up for her class, convincing the entire high school to wear red for menstrual awareness, or volunteering at various art museums around the city, Ali is always searching for a way to raise the hopes of her community. Ali is one of the most hardworking individuals I know, yet she is always ready to make those around her smile and laugh. I believe this speaks to Ali as a person — her warmth, her compassion for others, and the lasting impact she has left on the Keystone Community through the past five years.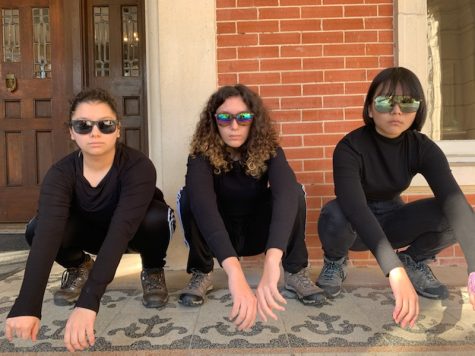 Joining the Keystone Community in eighth grade from Cornerstone Christian School, Ali has grown and developed, not only as a student, but also as an individual. As a current Keystone senior, Ali has become co-head of the Wellness Council, President of the National Honors Society, an avid Academic WorldQuest and Model United Nations member, Student Council Representative, and Co-Head of Media-Design and Student Life-Culture sections of the Keynote. Ali cites her favorite class throughout her years at Keystone as Mrs. Elizondo's British Literature Class. Through Mrs. Elizondo's ability to change her analytical skills in regard to literature, Ali has improved as both a writer and reader. The resources, however, is Ali's favorite aspect about the school — "at my old school, we didn't have the mental health resources that Keystone has, nor the teachers, and the passion that lies behind their teaching. At my old school, the assistant basketball coach taught history and he never studied history, whereas, at Keystone, the teachers teach what they majored in." Ali describes the science laboratory as the resource she has taken the greatest advantage as a Science Fair participant, yet she also highlights the very individualized College Counseling resources on campus.
As a talented artist, Ali has won a multitude of awards throughout her years at Keystone with her art being held on display in both the school arthouse and various locations within the city, including the SAYSí Art Exhibit. Ali cites her biggest accomplishment as finishing her art portfolio that she used for multiple art competitions, including Scholastic's annual Art Competition, for her AP 2D Art and Design Course, and for her college applications. Describing the complicated process behind the creation of an art portfolio, Ali emphasized the intricacies of interconnecting each piece including the writing of an artist's statement and an art résumé. "I think getting that done and putting my heart and soul into it throughout high school was really meaningful to me. It is my greatest accomplishment," Ali concluded.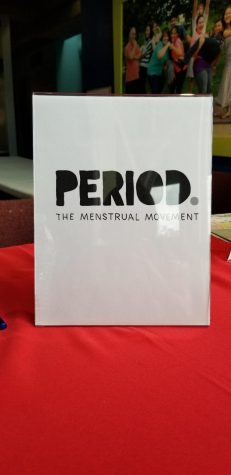 When not creating art for her art portfolio, Ali has used her time in high school to gain involvement in various activist movements within her community. PERIOD is a nationwide menstrual awareness movement organization that Ali worked with to create a PERIOD Chapter here in San Antonio. Through the chapter, she set up menstrual product drives in various locations within the city including Keystone, Brews Lee Tea on Broadway Street, and the University of Texas at San Antonio Campus. Follow the San Antonio PERIOD Chapter on Instagram at period.sanantonio!
Even with all the hard work Ali pours into both her art, schoolwork, and activist movements, Ali still tries to find time to unwind and relax through painting furniture, sewing her own clothing, and creating jewelry, such as earrings. The artist within her has also created her passion for anime — Studio Ghibli Films, Satoshi Films, Weathering with You, Your Name, and plenty more! In addition to art, Ali loves exploring the outdoors by riding her bike and hiking within San Antonio parks alongside her mom. She also loves eating ramen, both at home and in restaurants. If you are ever on the search for good ramen in San Antonio, Ali highly recommends Nama Ramen on Babcock Road!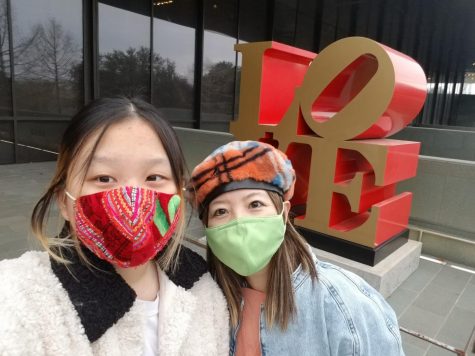 Ali's mother has always been a role model and person of influence for Ali growing up. She describes her mother as a very strong person and a good listener who has her Ali develop and grow as a person while encouraging Ali to work towards her best self. In ten years, Ali sees herself as someone who has their own company — "someone who does not work under a big corporation, maybe like a nonprofit." She additionally sees herself as an art teacher, social worker, or lawyer, yet also has an inclination to explore the sciences, specifically computer science. Whichever path Ali chooses, I know she will excel through her hard work and create a lasting impact on the lives around her. 
As a senior, Ali's time at Keystone is drawing to a close. As she embarks on her newest journey, she hopes to pass on the lessons she has learned through her past five years at Keystone — "During high school, you are going to come to a lot of realizations, while beginning to understand more about your surroundings and the people you care about. Not all of those things are going to be perfect. Everyone has flaws and everything has problems. You're going to start noticing more and more of those problems, and how they affect you. It is a part of growing up, but you should try your best not to drown yourself in those problems, flaws, and realizations. Essentially, what I am trying to say, if you ever feel overwhelmed over what is going on inside the house or outside of the world, just try your best to persevere through them." 
Committed to Stanford University in the Fall, Ali has a bright four years ahead of her. Through Ali's creativity, passion and ingenuity, I have confidence that her future opportunities and challenges will shape her into the person she is meant to become. Through hard work and perseverance, Ali will positively shape her world in unimaginable ways. We wish Ali luck in her future endeavors, and we are looking forward to what the future brings her. 
About the Writer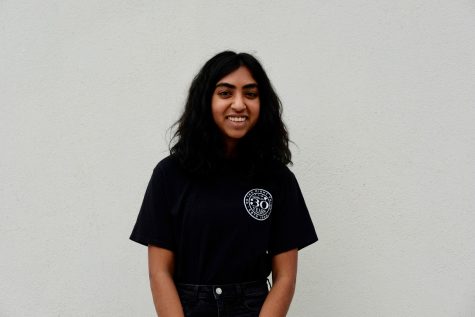 Siona Manocha, Co-Head of Media and Coordinator/Co-Student Life and Culture Editor
Siona Manocha, a senior, has attended Keystone School since kindergarten. Through The Keynote, Siona employs the use of visual art and media to highlight...